During Black History Month, Energy.gov is highlighting important contributions of scientists and engineers who worked on the Manhattan Project, the top-secret World War II-era program that ushered in the nuclear age.
Dr. Moddie Taylor (1912-1976) was part of an elite group of scientists tasked with developing the atomic bomb, helping to end the deadliest war in world history. Taylor was a chemist who specialized in rare earth metals and worked at the University of Chicago's Met Lab. Taylor was awarded the Certificate of Merit by Secretary of War Robert Patterson for his Manhattan Project research, which spanned from 1943 to 1945. Here are a few more facts about Dr. Moddie Taylor:
1. He broke through racial barriers and rose to the top of his class.
Taylor was born in the southern Alabama town of Nymph in 1912. He overcame segregation and other systematic forms of racism to earn a degree in Chemistry from Lincoln University in Oxford, Pennsylvania in 1935. He excelled at academics and became valedictorian of his class, graduating summa cum laude. Following graduation, Taylor taught chemistry at Lincoln and later enrolled at University of Chicago, earning a master's degree in 1939 and a Ph.D. in 1943.
2. He headed Howard's Chemistry Department.
After the war ended and following a brief stint at his Lincoln University alma mater, Taylor became a professor at Howard University, leading the Chemistry Department from 1969 to 1976.
3. His textbook was essential for science students.
Taylor's success in chemistry helped him earn a research grant from the American Academy of Arts and Science in 1956. With the funding, he studied gaseous systems. Four years later, he wrote "First Principles of Chemistry," an important textbook used by science students at colleges and universities throughout the United States.  
4. He was one of the best science professors in the country.
Also in 1956, Taylor was named one of America's top six college chemistry professors by the Manufacturing Chemists Association. In 1972, he received the Honor Scroll from the Washington Institute of Chemists for his educational and research contributions through the years.
5. He was a member of leading scientific societies.
Not only did Taylor win prestigious scientific awards, he was also member of major scientific organizations like the American Chemical Society and the American Association for the Advancement of Science. In addition, he was a fellow at the Washington Academy for the Advancement of Science and American Institute of Chemists.
More on the Manhattan Project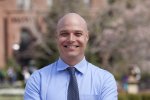 Paul Lester
Paul Lester is a Digital Content Specialist in the Office of Public Affairs. Paul was born in Ohio but spent most of his life in Florida, where he worked as news researcher/archivist and online editor for the Orlando Sentinel.
more by this author