You are here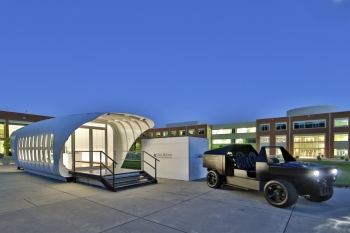 The Additive Manufacturing Integrated Energy (AMIE) demonstration project, a 3D-printed house and car that can share power, is one example of the amazing things that happen when national labs and industry combine their power. | Photo Courtesy: Oak Ridge National Laboratory.
Blog post from Victor Kaine, Director of DOE's National Lab Impact Initiative, December 12, 2016.
The U.S. Department of Energy's (DOE) national laboratories give the United States an undeniable strategic advantage in the global marketplace. The national labs use the world's most advanced technology and equipment, staffed by many of the best and brightest scientific minds, to perform groundbreaking scientific research. Each year, they develop more than 1,800 new inventions and receive more than 400 patents.
Technological breakthroughs at our national labs have fueled transformation science and engineering that has enhanced American prosperity, changed millions of lives, and served regional and local communities for more than 80 years. Many of the products you see every day came about as a result of a partnership between a national lab and a company, university, or other private organization. They've helped bring the Web to the United States, shown that fusion is not fantasy, harvested energy from air, and put eyes in the sky. But not every lab innovation becomes part of our daily lives like these.  
EERE's Lab Impact team works to increase collaboration between the U.S. national laboratories and the private sector, harnessing innovation at the labs and helping ensure America's competitive advantage. Today, we kick-off Lab Impact Week and share highlights of collaborative projects between the labs and the private sector from years past. Stories this week include the following:
How a national lab helped a struggling 100-year-old business get back on its feet.
How the national labs and companies made it possible for the 1 millionth distributed solar photovoltaic system to be installed in 2016.
How top diesel engine manufacturers worked with a national lab to make cheaper, more energy efficient, and globally competitive models.
The Lab Impact team also helps bring the business mindset into the lab invention process, so that American scientific leadership becomes American economic growth. Through our Small Business Vouchers pilot 76 small businesses from 25 different states have accessed the national labs' expertise and facilities to develop their clean energy technologies. Our DOE Lab-Corps entrepreneurial training for lab researchers has helped 51 teams and 55 industry mentors conduct more than 2,000 customer discovery interviews. Our newest initiative, Lab-Bridge, empowers the labs to create innovative, industry-focused solutions to help bring more technologies to market.
Follow along with us throughout Lab Impact Week. We'll share some of our favorite stories here, and keep up with us on Facebook with #LabImpactWeek. If you want to learn more, please visit our website, or email us at EERELabImpact@ee.doe.gov.
Lab Impact is part of EERE's Tech-to-Market Program, working to bolster American innovation and competitiveness by eliminating common barriers that prevent market exploration of transformative EERE technologies.