You are here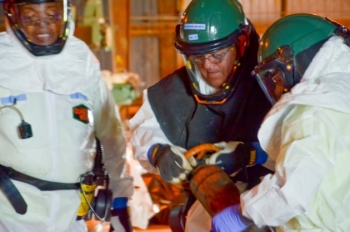 Herb Tyler, David Cassibry, and Roger Nelson review items for characterization. (Photo by Dylan Nichols, LATA Kentucky)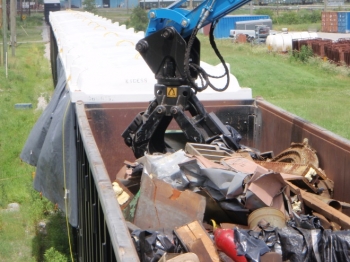 A crane loads a high‐side railcar for transport to a commercial waste disposal facility after the material was reduced in size.
PADUCAH, Ky. – Work to remove and dispose of waste from two sections of an old warehouse at the U.S. Department of Energy's Paducah Site is complete. The nearly 29,000-square-foot eastern end of the C-746-B warehouse was used to store materials and equipment from within the Paducah Site.
DOE cleanup contractor LATA Environmental Services of Kentucky LLC began removing equipment and debris in May 2014 and in November finished shipping waste to a commercial disposal facility. The project was accelerated as a result of additional funding that DOE received from Congress in early 2014.
"These items were removed in order to prepare the warehouse for storage or eventual decontamination and decommissioning in the future," said Jennifer Woodard, DOE Paducah site lead with the Portsmouth/Paducah Project Office.
Jerome Ellington, who managed much of the project for LATA Kentucky, credited the success to planning, preparation, and a well-trained team that used lessons learned from Paducah and other sites on how to prepare for this type of characterization, packaging, waste handling, loading, and shipping work. "Every week the team has exceeded the goal of safely removing, characterizing, and packaging the waste for shipment," he said.
The east end of the warehouse contained more than 38,000 cubic feet of waste and debris, mainly from uranium enrichment operations at the former Paducah Gaseous Diffusion Plant, including fork trucks, floor sweepers, welders, machine shop equipment such as lathes and mills, and pallets. The amount of waste could cover an area roughly the size of a high school basketball court with debris piled about six feet high.