You are here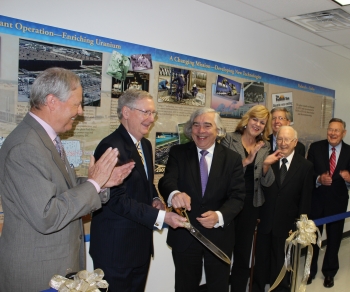 Federal, state and local Kentucky officials joined Secretary of Energy Dr. Ernest Moniz (third from left) and Senate Majority Mitch McConnell on September 10, 2015 as they cut the ribbon introducing the new Paducah Site wall display on the Fifth Floor of DOE's Forrestal Building in Washington, D.C. Pictured (left-right) are: U.S. Rep. Ed Whitfield, Sen. McConnell, Secretary Moniz, Paducah Mayor Gayle Kaler, McCracken County Judge-Executive Bob Leeper, Clyde Elrod, and Dr. Len Peters, Secretary of the Kentucky Energy and Environment Cabinet. Mr. Elrod was Charter President of the Paducah Area Community Reuse Organization and was involved with the construction of the Paducah plant. (EM photo by David Sheeley)
WASHINGTON, D.C.—Secretary of Energy Dr. Ernest Moniz joined Congressional, DOE, state and local leaders and representatives of the Paducah Area Chamber of Commerce September 10, 2015 to cut the ribbon introducing DOE's new Paducah Site wall display on the Fifth Floor of DOE's Forrestal Building.  Secretary Moniz and Senate Majority Leader Mitch McConnell, along with U.S. Rep. Ed Whitfield, cut the ribbon and offered remarks at the gathering.  Joining Dr. Moniz in hosting the ceremony was David Klaus, Deputy Undersecretary for Management and Performance.
The Paducah Area Chamber of Commerce was visiting the capital for its annual "Fly-In" to meet with federal officials and discuss issues of interest to local communities.
The display, developed in cooperation with the Chamber, is intended to inform employees and visitors at DOE Headquarters about the Paducah Site's history, its workers and the community, their significant contributions to the nation and the region, and the ongoing cleanup.