You are here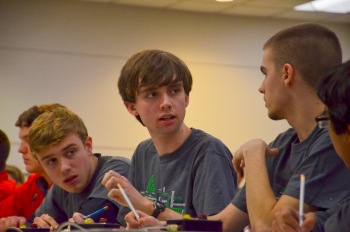 Gatton Academy of Mathematics and Science won the 2015 West Kentucky Regional High School Science Bowl competition in Paducah. Pictured, Gatton team captain Ben Guthrie (middle) discusses a question with teammate Bryan Carlson.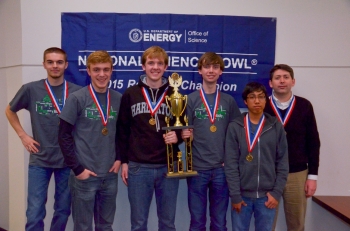 First place Gatton Academy of Mathematics and Science in Kentucky, from left, Bryan Carlson, Paul Hudson, Ben Riley, Ben Guthrie, Rohan Deshpande, Derick Strode (coach).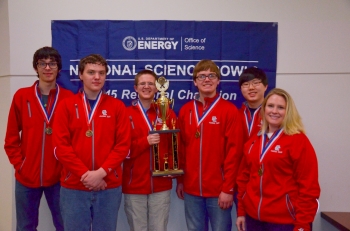 Second place Calloway County High School, from left, Rodrigo Deloin, Martin Mikulcik, Sam Morehead, Eric Mikulcik, Jaewon Kang, Erica Gray (coach).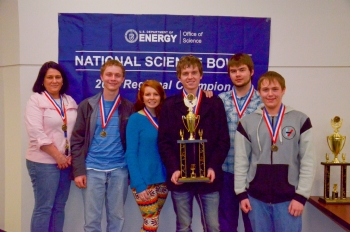 Third place Marshall County High School, from left, Tina Marshall (coach) Adam Packett, Cassidy Adair, Justin Smith, Austin Semm, Jeremiah Halter.
UPDATED May 5, 2015 with National Science Bowl results.
PADUCAH, KY –  Gatton Academy, Bowling Green, KY, won the U.S. Department of Energy's (DOE) West Kentucky Regional Science Bowl February 27, 2015,  during competition among 18 high school teams. 
DOE provided an all-expense paid trip for the winning team as they represented west Kentucky in the high school competition of DOE's National Science Bowl (NSB), held in Washington, DC, April 30–May 4. This year marked the 25th time the national competition has been held.  While at the national competition, Gatton Academy also visited national monuments and museums.
In the February Regional competition, Calloway County High School Team #1 finished second behind Gatton, while Marshall County High School finished third.
"It was a complete effort by the students," said Gatton Academy coach Derick Strode.  "Students began practicing in the evenings last October in preparation for today's competition," said team captain Ben Guthrie.
Other high schools competing in the Regionals were McCracken County, Ballard County, Crittenden County, Massac County, Henderson County, Paducah Tilghman, Union County, and West KY Home Schools United.  Some schools had more than one team competing.
The DOE National Science Bowl® challenges students' knowledge in all areas of science, including biology, chemistry, Earth science, physics, energy, and math.
DOE, University of Kentucky College of Engineering―Paducah Campus, the Paducah Area Chamber of Commerce's Business Education Partnership, West Kentucky Community and Technical College, Ballard County Economic and Industrial Development Board, LATA Kentucky, Fluor Federal Services, Inc. Paducah Deactivation Project, Babcock & Wilcox Conversion Services, Professional Project Services (Pro2Serve), and Paducah Water sponsor the West Kentucky Regional Science Bowl.
DOE's Office of Science manages the NSB Finals competition.  More information is available on the NSB website: http://www.science.energy.gov/wdts/nsb/.