You are here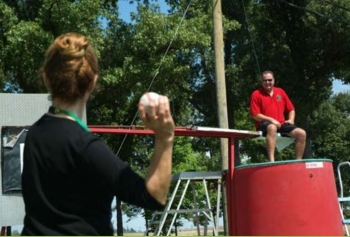 Paducah Cooperative Ministry Executive Director Heidi Suhrheinrich throws a baseball as DOE's Mark Allen sits above the dunking tank.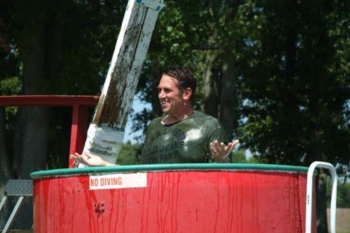 DOE Paducah Site Lead Reinhard Knerr grins after being dunked at Tuesday's Feds Feed Families event that raised nearly $1,100 for the needy.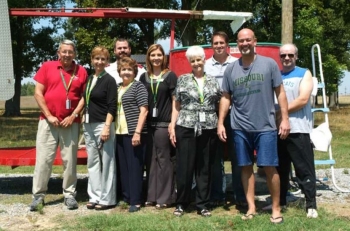 From left: Richard Hayden, St. Vincent de Paul; Heidi Suhrheinrich, Paducah Cooperative Ministry; Lt. Joe Crawford, Salvation Army; Shirley Barlow, River City Mission; Pam Truitt, Family Service Society; Martha Bell, Martha's Vineyard; and Reinhard Knerr, Dave Dollins, and James Johnson, DOE Paducah Site Office.
PADUCAH, KY –The Department of Energy (DOE) and its Paducah contractors have raised nearly $1,100 to help restock the shelves of six Paducah service organizations that help the hungry.
The Feds Feed Families campaign culminated Tuesday with a dunking booth and cookout at the DOE Site Office at the Paducah Gaseous Diffusion Plant. Representatives from each of the six recipient organizations watched as DOE Site Lead Reinhard Knerr and three other Site Office officials repeatedly were dunked by people who paid to throw baseballs. 
"We really enjoy doing this, and it's for an excellent cause," Knerr said. "This year, we accomplished our goal of reaching out to more service organizations than last year."
The money, raised through the cookout, dunking booth, and from DOE and contractor employees, will go to buy food for Martha's Vineyard, Family Service Society, St. Vincent de Paul Society, the Salvation Army, River City Mission, and Paducah Cooperative Ministry. Workers also donated food. 
"When people in the community support you, it means everything because they see a need," said Lt. Joe Crawford of the Salvation Army. "During this year's heat wave, utility bills have typically gone up 20 percent. A lot of times people simply don't have the money to pay for both food and utility bills."
River City Mission family units are full as homelessness continues to increase in the Paducah area, said Shirley Barlow, mission executive director.
"Ten years ago, the homeless were mostly single adults," said Heidi Suhrheinrich, Paducah Cooperative Ministry Executive Director. "Now it's across the board, including single women with children.
"The fourth annual Feds Feed Families (www.fedsfeedfamilies.gov) campaign helps local food banks replenish supplies during summer. Over the past three years federal agencies have collected 8 million pounds of food and nonperishable items for the needy.