You are here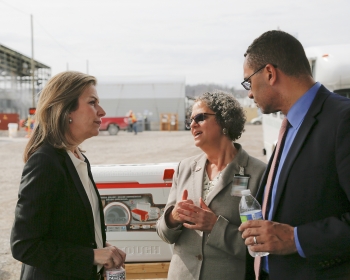 (Left to right) Elizabeth Sherwood-Randall, Deputy Secretary of Energy; Sue Cange, Oak Ridge Office of Environmental Managment Manager; and Tim McClees, Chief of Staff to the Deputy Secretary of Energy
Oak Ridge, Tenn. - On March 11-12, Deputy Secretary Elizabeth Sherwood-Randall visited Oak Ridge. During her time at the site, she toured the Oak Ridge Reservation, led an employee all-hands meeting, met local officials, and served as a keynote speaker at the 2015 Oak Ridge Women's Workshop—a day-long event with more than 200 participants from across the region.
As she traveled across the reservation, she stopped at the East Tennessee Technology Park for a first-hand perspective of the environmental cleanup happening there. Specifically, Deputy Secretary Sherwood-Randall watched demolition crews continue their progress at Building K-31. Workers have removed more than 60 percent of the facility, and they are more than 50 percent complete with the debris removal.
Oak Ridge's EM program is making significant advancements toward achieving its Vision 2016. This vision involves removing all of the gaseous diffusion uranium enrichment facilities at the East Tennessee Technology Park, one of the most complex aspects of cleanup, by 2016.
Completion of the K-31 demolition project will mark the removal of the fourth of five gaseous diffusion buildings at the East Tennessee Technology Park. That 17-acre facility began operations in 1951, and it was used to enrich uranium for defense and commercial purposes until it was shut down in 1985. K-31's demolition is scheduled for completion later this year. After that demolition, Building K-27 will be the only remaining gaseous diffusion building at ETTP. It is scheduled for demolition in 2016.