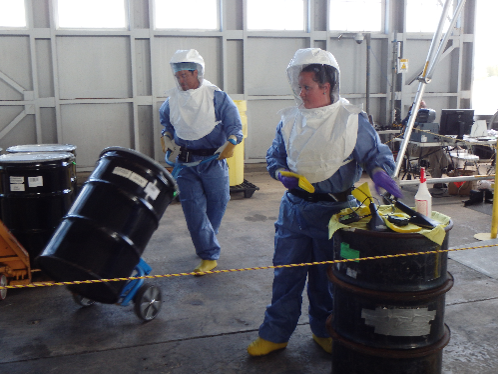 Experts from across the Department of Energy and NNSA recently teamed up with the U.S. Army at Naval Air Station Key West, Florida, to exercise the capabilities of two rapid response facilities critical to national security.
For six weeks in May and June, interagency partners practiced the operations and procedures necessary to deploy the Mobile Plutonium Facility and Mobile Uranium Facility as part of Exercise Corvina Loco. These two assets would allow the U.S. to package and safely remove nuclear materials quickly.
The exercise scenario tested the complete range of mobile procedures at the plutonium and uranium facilities: material packaging, glovebox operations, tracking, non-destructive analysis, storage, and X-ray procedures. The participants lent their unique capabilities to a unified response.
Corvina Loco involved approximately 100 personnel from the Army's 20th Chemical, Biological, Radiological, Nuclear, and Explosives (CBRNE) Command; Savannah River National Laboratory; Oak Ridge National Laboratory; Pacific Northwest National Laboratory; Y-12 National Security Complex; Los Alamos National Laboratory; and the Nevada Nuclear Security Site. Over 18,000 training hours were performed.
The annual exercise evaluates the capabilities in different environments. While Key West offered a sub-tropical climate, previous exercises were held in Nevada and Alaska. By regularly deploying and exercising under real-world conditions, NNSA and its partners are able to improve processes and equipment.