Father and Son Discuss Red Cloud Renewable's Grassroots Approach to Tribal Energy Development
Chief Henry Red Cloud of the Oglala Lakota Nation got involved in solar energy in 2002 and founded the nonprofit Red Cloud Renewable (RCR) to assist tribal members and communities in moving toward energy independence through energy deployment and sustainable living projects that emphasize workforce development and training.  
​RCR's success today is founded on its partnerships with over 70 federally recognized tribes. They have trained more than 1,100 Indigenous people as solar installers.
We were honored to have the chance to sit down with the Lakota father-son team in a real-time conversation about their latest Native-focused passion projects and what Native engagement in energy sovereignty looks like from their perspective.
Read on and listen to them speak about their impactful work at RCR, the importance of partnering, and why they are hopeful about the future of energy in Indian Country.
Chief Red Cloud, why did you decide to focus on energy as a way to improve quality of life in your community? 
Indian Energy Champions
Names: Chief Henry Red Cloud, Executive Director; John Red Cloud, Managing Director
Affiliation: Oglala Lakota Nation, Pine Ridge, South Dakota
Organization: Red Cloud Renewable
Chief Red Cloud: After being born and raised [on Pine Ridge] and then having to leave there because of work, I found myself working construction, mostly, and always had the calling to go back home. And returning home and then finding that it was in dire straits. There was no work. It was pretty bleak. 
A couple good friends of mine—Pat Spears, he's a member of the Lower Brule [Sioux] Tribe, as well as Bob Goff, non-Native—were spearheading this wind energy program. And in the spring of '97 I met with them. They said, "Where you been? How you doing? What are you up to?"
So I told them, "Well, I'm kind of at the crossroads in my life, wanting to go back to work but wanting to stay here." Because I had the calling for the people as well as the Earth. So they said, "You know, you ought to get into clean energy. Get into solar." So I did everything I could to understand components, layout, design, installation of solar. 
I started back in 2002. I did some research around the 1970s concept of solar hot-air heating and was able to come up with this crude design that really worked. I was astonished by it. And then I built up partnerships with various organizations. And then we started manufacturing in 2003. We can save families 25% to 30% on their heating costs with one of our units. 
I did everything I could in 2003 to understand solar electric. And within those times of training, conferences, I was always looking for Indigenous tribal members but never saw any. And that spurred the idea of creating a training facility within Pine Ridge. Today we have over 1,100 Indigenous people trained. 
We hope others can look at what we're doing and they can emulate it, or at least know that it's possible, wherever they may be. The opportunity is there. Just have a little bit of faith sometimes and be willing to have the hard conversations and to go through some of the ups and downs.
John Red Cloud
It seems Red Cloud Renewable has taken a truly grassroots approach, which brings to mind the concept of energy democracy. Why is that important in Indian Country?
John: Today we're working with 70 of 574 federally recognized tribes, trading economic opportunities, helping them understand solar, getting them on that green path. Indigenous people have been embracing the sun for eons. It's in our culture, our ceremony, our song, our dance. So we're taking this new way to honor the old way and then become sustainable in every aspect. And that only happens from the grassroots. So we're working with people at the grassroot level, bringing this forward. 
What does energy sovereignty mean to you, and why do you see it as a priority for tribes?
John: It takes on new meaning for me, coming from the Pine Ridge Reservation and knowing there's been a historical tenacity to remain sovereign. Sometimes I refer to Pine Ridge as unceded Lakota territory. You know, we never ceded the land to anybody. 
So that sovereignty piece really embodies the spirit of the people—a lot of Native people. But more so, we have that self-determination. We want to have the primary role in the direction of our life. Part of the pride of being part of a Native culture that's still around and very robust today is recognizing that sovereignty piece and then applying that to energy sovereignty. 
That's going to be a work in progress. There's a number of things that affect that, including what's happening on Capitol Hill. It trickles down. And what my dad talks about is in order to get the community buy-in, oftentimes it does require the community trusting what's going on. 
I like to call it the "winning of the hearts and minds," the WHAM campaign. People see what we're doing in Indian Country, and they're able to really believe and see—they can see a reflection of themselves. And that's really key. That's something [my dad] started—his vision years ago—and brought to this point. And now we're able to be that catalyst for others. 
But that sovereignty piece is always part of who we are. It's always there in the background. That's our guidance in many ways. And our latest DOE [award] was "Native to Native Energy Sovereignty: Path to Net-Zero Emissions."
How does your expansive and inclusive vision for building renewable energy programs throughout Indian Country by working with students from all tribes play out in practice?
Chief Red Cloud: Working with the Indigenous tribes, once those students walk through that door, it's all light. We joke a lot, but there's ceremony first. There's prayer, there's song. All of these [are] put at the forefront. And then it's really light from that point.
It's Natives working with Natives—Native instructors teaching new students. We're just on a ramp-up. Things are happening. Things will change throughout Indigenous communities.
What projects are you working on that you're especially excited about? 
Chief Red Cloud: We have this wonderful project [building] tiny homes using cellular concrete. We have a finished prototype that consists of 400 square foot of living space. It's energy efficiency at its finest.
What advice would you offer to other tribes who are beginning to build partnerships?
John: It sounds kind of cliché, but you don't know what you don't know. And a lot of people around the country, they have their circle of influence, as we have ours. And there's that Venn diagram concept where they overlap a little bit.
I've found that bridging these two wells of knowledge sometimes comes with really trying to put yourself in the other person's shoes and find out what their experience might be and then ours, and then coming together to form a common partnership. 
Also, embracing opportunities for discourse. Maybe that means disagreement. And conflict isn't necessarily a bad thing. It's an opportunity for a person to give their perspective. We give ours. Hey, maybe they don't really match up. But that's okay. Sometimes that's part of what discourse is.
We hope others can look at what we're doing and they can emulate it, or at least know that it's possible, wherever they may be. The opportunity is there. Just have a little bit of faith sometimes and be willing to have the hard conversations and to go through some of the ups and downs. 
What advice or lessons learned would you share with Native communities or individuals who are just getting started with clean energy?
Chief Red Cloud: I know that partnerships are very key. Today there isn't a workforce out there to keep up with the solar installs. So there's no time to reinvent the wheel. No, we came past that 30 years ago. What we need to do [now] is partner up and start to move down this path together.
Thank goodness to Google search you can spend some time in front of the screen, and you can see what people are doing out there within Indigenous lands. And start partnering up with them. Start to reach out to them.  
Maybe people are doing things that you have a passion for, or there's that change that you want to make within your life. So reaching out there, doing some research, seeing what people are doing and saying, "Okay, I want to do that. Now, is there anybody within Indian Country doing this? Is there anybody within my own community doing this?"
My vision is to see one of the 574 federally recognized Indigenous tribes become energy-independent before mainstream America, and to show the whole country that it can be done. The country needs that. People need to see that. It's time to heal the past and move forward.
Chief Henry Red Cloud
What aspect of your work do each of you find the most challenging, and what brings you the most joy? 
John: I think the most challenging part is identifying the opportunities. Because there's all sorts of different opportunities, and it's knowing when to pass up an opportunity because it might not be the best fit and also understanding that I am going to make the wrong call at some point. And I've just got to learn from that too. 
The most rewarding part of my job is having that sense in being comfortable to kind of walk in both worlds. I was able to leave the Reservation, obtain a formal education, come back, but also retain who I am, who I've always been. So to bring those things together and work on behalf of the people, to use the talents I have for the betterment of others, to me that's rewarding. As long as you can be there and understand things and bring two groups of folks together who may not necessarily have the right fit and be able to explain. That's hard to quantify, but it means a lot. 
Chief Red Cloud: A challenge for me was getting started down this solar path. I envisioned what was going to happen, but some days I would find myself as the lone solar warrior. I found myself driving down the road with solar equipment and saying, "Okay, I can do this," and continuing down that path of visiting different respected Indigenous communities and sharing what I was doing. 
And as things evolved and we started to get more people interested, then we became a nonprofit. I had to be in one area, and then in the other area, and I had to know exactly where all the tools were and what kind of panels we had, what kind of inverters. And it was just having all this in my head. Then we started to expand out, and we started to come up with a great team of people, which made it a whole lot easier. 
I wanted to make this change. I saw this change coming, and it was just coming up with a team of people that can really move this forward. 
What gives you both hope for the future? 
Chief Red Cloud: What gives me hope is seeing [our students] graduate from every part of our training courses. At the end of every course we give them a certificate. And oh, they're smiling, and they're thinking, "Okay, I can do this." And there's a huge energy surrounding them. 
Today our team is traveling over to Wagner, South Dakota, home of the Yankton Nation, and we have this green jobs training happening there. Every one of the instructors there are NABCEP [North American Board of Certified Energy Practitioners] certified, and they're all Indigenous, and they all came through Red Cloud Renewable. And so to have that team working together and teaching other Natives, it's a historic time, and it's now going to happen. 
This is what all the training they received was for, being able to illustrate how solar works, how all the components go together, and putting that Native twang to it—and having fun at it. 
John: I go up to people [and say], "Today's a great day for a race. Well, what kind of race are you talking about," [they ask]. And I tell them, "the human race." We're capable of so much good when we unite and we communicate, set our differences aside and really try to move forward. And when that happens it's kind of magical. And to me, whenever people of various backgrounds cross political boundaries, we all have many things in common. People in general are inclined to look at dissimilarities much too often. And whenever that's not the case, it really creates a lot of hope for me.
What is your vision for the future of energy in Indian Country?
Chief Red Cloud: My vision is to see one of the 574 federally recognized Indigenous tribes become energy-independent before mainstream America, and to show the whole country that it can be done. The country needs that. People need to see that. It's time to heal the past and move forward. 
Indian Energy Champions
Change doesn't happen on its own. It's led by dedicated and passionate people who champion innovative solutions to tribal energy challenges. Indian Energy Champions is a U.S. Department of Energy (DOE) Office of Indian Energy blog series spotlighting innovators and influencers in Indian energy.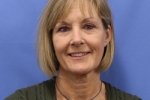 Karen Petersen
Karen Petersen is a communications strategist at the National Renewable Energy Laboratory's Communications & Public Affairs Office.
more by this author