Change doesn't happen on its own. It's led by dedicated and passionate people who are championing innovative solutions to tribal energy challenges. Indian Energy Champions is a U.S. Department of Energy (DOE) Office of Indian Energy blog series spotlighting innovators and influencers in Indian energy.
We caught up with Tim Willink recently for a conversation about his work leading GRID Alternatives' National Tribal Program.
Name: Tim Willink
Affiliation: Navajo
Organization: GRID Alternatives
Title/Role: Director of National Tribal Program
How would you describe your role at GRID?
I'm the director of the Tribal Program, so I oversee all aspects of our work. Whether I'm out in the field leading projects as a construction manager or in the office managing the program side, I feel like I'm using a ton of my skill set and knowledge.
We're not A to Z, but we're very close to it when we work with tribes. I'm interfacing with tribal leaders and other stakeholders, or with foundations doing fundraising, and then developing the project with the utilities and the Indigenous nations.
It's making sure the administrative side of things is taken care of—hiring, recruiting, making sure the designs are good and the projects are viable. We write the grants to get the resources to implement those projects. We then come up with the plans to do that. It's keeping a lot of things in the air at one time.
In the field, I'm the lead lately, this whole past year. I'm leading the projects, being the site supervisor—everything from safety to equipment to making sure it's installed correctly.
What is your favorite part of the job?
That's a hard one. I still enjoy installing and being out at the grassroots level. I also like interfacing with tribal leaders and tribes and being that bridge to Indian Country in getting these projects done.
I think my favorite part is seeing people come into our program and participate and get paid training. Working alongside them and having conversations about their future and then seeing them go down this career path.
We spend a third of our life working, and to see somebody have that passion and really provide that opportunity for them to change their lives is just so rewarding.
How did you approach building a career in solar energy, and how did your own journey in this field evolve?
I was always interested in renewable energy, even as far back as college. But these opportunities were not there; the industry was nascent. About 15 years ago, I decided to make a career change and become a solar installer. I was just interested in it. I knew there was tons of sun where I'm from, and I just thought that was the way to go.
I took a class and applied, and I started out as a $12-an-hour temporary installer and then just grew with the industry. I got hired on permanently, and the opportunities always presented themselves. I took advantage of those opportunities, and in 5 years I was leading commercial crews.
But I'd go back home and there would be all this sun. Yet there was a lack of electricity, and people were struggling to pay their bills. And obviously, the fossil fuel industry and coal-fired power plants were there. And I thought, "If we're doing this in Colorado, why can't we do this here?"
And when the job opened at GRID, I think four people sent me the job announcement. I was lucky enough to be hired on in 2014, and here we are.
What advice would you give tribal members and Native youth who are interested in careers in solar?
I would say the opportunities are there. I think it's going to grow more and more. They are in the unique position to take advantage of these opportunities and go down an exciting career path and do life-changing work.
The typical advice I give is that something like 90% of life is showing up. Just give as much as you can and put yourself out there. And stay disciplined. Show up on time and work hard, and more doors than you probably thought imaginable are going to open.
And if you're reticent or apprehensive about getting into it, but you want to do it, I would say go for it and give it your best shot. Gain as much knowledge as you can in the classroom, on the technical aspects. Develop your skill set whenever you have an opportunity to learn or practice or get repetition.
It's a fun, exciting industry to be in. And for me, it's fun to see some of our trainees, who we've hired on permanently, now come to work with such excitement and a great attitude—that they did not have when they first started. That is just super affirming to me. But also, I'm so glad for them.
Were there mentors along the way who really impacted your career?
From when I first got into the industry, there have been so many folks who provided opportunities and guidance.
So many at GRID, starting with the cofounders who hired me and just had this incredible vision that solar shouldn't just be for people with resources. And by being in this position and seeing that there are impediments to tribes—what has worked in the solar industry has not necessarily worked for tribes—I am able to advocate for that now.
So many people have guided me on the technical side, but also on a personal level, with goal-setting—many were Indigenous leaders. I have an informal advisory team I just call up; just incredibly blessed there. These people are leaders in the industry, the people who forged the path. And I'm just so fortunate that they give their time to our program and to our organization and to me personally.
It's super flattering, super humbling when I look up to these people and can just pick up the phone and call them or send them an email and they respond. I'm so grateful.
How has the COVID-19 pandemic impacted your work?
I think it's impacted our work tremendously, particularly at the onset, without the vaccines. A lot of tribes closed the reservation borders, so we weren't allowed to work. And that impacted our trainees, who are mainly Indigenous. Without the work, we had a ton of turnover. They wanted to go home and make sure their families and communities were safe.
Meanwhile, we didn't have work, so we basically had to rebuild our team. And then once things did reopen, there have been a lot of protocols—making sure people are following best practices. We wear masks outside while we're installing, and we encourage vaccinations. Some tribes require it if we're going to be there.
And now it's affected us on a resource level, cost-wise. In our travel, we used to be more informal, but now we need to get individual hotel rooms, and we can't carpool as much. Also, before the pandemic, we would always invite people out to the install, and now we don't do that anymore. Now it's mainly paid trainees. Just working with the community, knowing at any time we could be shut down.
With the global shutdown, there have been supply chain issues. It's been rough getting stuff shipped out, with transportation, truck drivers are being affected. That's delayed some of our projects. Meanwhile, costs have gone up for simple stuff, where you're like, "Whoa! It costs how much money now?!" Our costs have gone up a lot.
Historically, we've worked with over 45 different tribes across the country. I think we're close to 7 megawatts of solar installed throughout GRID since its inception. And we're in the hundreds of Native families who now have clean solar.
Yet even with all that, you're doing a lot more than you were doing when you first started in 2014.
I think when I first started it was me and an AmericaCorps or Vista volunteer. And our goal was 5 or 10 houses a year. I think we're currently up to 12 and growing. We're going to hire more people this year. For the past 3 years, our program has installed over 700 kilowatts every year. And this year, we're slated to do 70 homes within the Spokane Nation alone. We could potentially do close to 80 homes this year.
Historically, we've worked with over 45 different tribes across the country. I think we're close to 7 megawatts of solar installed throughout GRID since its inception. And we're in the hundreds of Native families who now have clean solar.
Seeing that kind of impact has got to be incredibly rewarding. What project(s) are you most excited about or proud of, and why?
One of our most notable projects this past year was the Blackfeet Community College. I think it's going to be a model for years to come. The trainees were students installing on their own college, and those systems are cranking. Just in October in Montana, they were realizing significant savings, so just imagine what it's going to do in the summer. [Blackfeet Community College is a private tribal land-grant community college on the Blackfeet reservation in Browning, Montana.]
Wherever we go, whether the Northwest or Alaska or the Great Plains or the Southwest, tribes are on the front line of climate change and see the impacts ... We're providing opportunities for folks to give back to their communities through impactful work and being a part of the solution as much as we can.
To what do you attribute the kind of exponential growth you've seen?
The technology is getting better, the costs are going down, and there are more and more resources. We're in a unique position because we're not profit-driven. We incorporate workforce development and training, and we call it "our classroom on the roof." And now we're offering more and more paid training. Our team is primarily Indigenous from all over the country. I think that's always cool for people to see your team is mostly Native up on the roof.
As someone who is on the front lines of energy justice for Indigenous people, what motivates you to push through all the challenges and stick with it?
Wherever we go, whether the Northwest or Alaska or the Great Plains or the Southwest, tribes are on the front line of climate change and see the impacts. And the traditional energy markets and delivery systems are not working for Indigenous nations and their communities and citizens.
Tribes are looking for other options—economically speaking, but more importantly, culturally speaking, for developing less impactful energy sources. Tribes are looking to incorporate renewable energy—in our instance, solar PV—into their energy portfolios because of the economic, environmental, and cultural benefits.
To be able to provide those opportunities for Indigenous nations, to find success in changing people's career paths and providing a different way. We're providing opportunities for folks to give back to their communities through impactful work and being a part of the solution as much as we can. That's super, super exciting to me.
What initiatives is GRID leading in the next year that you're particularly excited about?
We're looking at expansion and more impact, so we're always looking to collaborate with different institutions.
I was on a call earlier with people I've known for 5 years, and they're still hard at it. They've seen how we've grown, and they're going to come up and visit our site next week. They're like, "This is super cool what you're doing. We want to see how you're doing it and see it firsthand, and we want to potentially partner with you."
They have the vision, and they have different contacts than we do, and they work in different areas. And if we can somehow partner, that's amazing. You know, we're always willing to talk to folks.
And there are other sister organizations, like Native Renewables. They work on the Navajo Nation, but we communicate with them and rejoice in their success. They've been incredibly successful . . . it's just amazing the work they've done.
If we can share stories or expertise or lend a hand in any way—or vice versa—that's exciting. I think there's going to be more and more of that going on.
What initiatives on the federal level do you see as having the greatest potential to impact your program?
We're very thankful for the support of DOE's Office of Indian Energy. As a result, we have 2 years of work ahead of us. We've been very fortunate that as our work has grown, we've had more funding opportunities; we've attracted a lot more funders.
On the federal level, if Build Back Better happens, or if they end up getting some of the increased funding in certain programs, and if we're able to take advantage of those, we're going to have tremendous growth and impact.
And there also may be more workforce development opportunities. We have a grant for workforce development, so paid workforce development is going to be huge for us—being able to pay the trainees. We've always had a volunteer-based model, but now we can incorporate paid trainees.
And we'll get more participation and more meaningful involvement. We'll see a lot more Indigenous people from all these tribal nations across the country starting out and participating in the training and potentially getting hired on.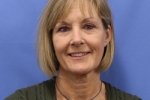 Karen Petersen
Karen Petersen is a communications strategist at the National Renewable Energy Laboratory's Communications & Public Affairs Office.
more by this author