You are here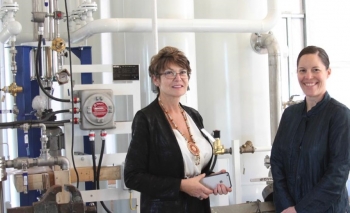 The Blue Lake Rancheria Tribe is one of 16 communities selected as Climate Action Champions by the Obama Administration in December for exceptional work in response to climate change. To date, the Tribe has reduced energy consumption by 35%, completed dozens of energy efficiency upgrades, and is recycling more than 70 tons of waste per year.
"I am unbelievably honored by winning and being in the company of the Sault Ste. Marie Tribe, as well as San Francisco, Seattle, and Boston. These are bold green communities," said Jana Ganion, energy director at Blue Lake Rancheria and a representative for the Tribe on the U.S. Department of Energy's Indian Country Energy and Infrastructure Working Group.
The Tribe, which began its strategic climate action plan in 2008, has invested considerable time and money into energy conservation and renewable energy projects—distinguishing them from others. Current climate action projects include an all-of-the-above renewable strategy of transportation, residential, and municipal renewable energy projects. These projects will further reduce energy consumption and carbon emissions, making the Rancheria a leader in the region.
As a Climate Action Champion, Blue Lake will receive federal support, assistance, and tools to further their goals. They will also qualify for additional consideration for federal funding and technical assistance awards. "Because we are a small rural community, we want to leverage the technical assistance and funding we will receive for the Tribe and the entire region," said Ganion. "Regional climate action and partnerships are important to us."
The Administration hopes to identify and replicate the best practices used by the Climate Action Champions to inform other communities interested in climate change resiliency efforts. By identifying and calling out the efforts of these communities, interaction and information sharing will be promoted, helping Tribes and other communities to learn and grow from each other.
Read more about the Climate Action Champions. Visit the DOE Office of Indian Energy's Resource Library for information for Tribes on climate change and resilience.