You are here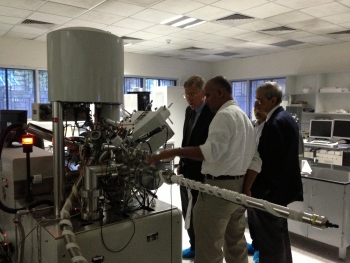 The Deputy Secretary toured the Indian Institute of Science (IISc), Honeywell, and Infosys – a company founded in 1981 by seven Indian engineers.
Deputy Secretary Poneman traveled to India on July 30-31 for the U.S.-India Strategic Dialogue with Secretary Kerry and Secretary Pritzker, where he met with Indian government officials, scientists and energy industry leaders.
The day before the dialogue, he visited Bangalore to review the work of two of DOE's research consortia under the U.S.-India Joint Clean Energy R&D Center – co-funded on a 50/50 basis by DOE and the Indian Government.  The Deputy Secretary toured the Indian Institute of Science (IISc), Honeywell, and Infosys – a company founded in 1981 by seven Indian engineers. Each of these sites showcased areas of collaboration with DOE and its national labs, as well as a shared commitment to innovation, building energy efficiency solutions and a low-carbon future.
On a 400-acre plot of land donated over 100 years ago by the Maharaja of Mysore, the Indian Institute of Science currently enrolls over 3,000 students in advanced engineering and science studies.  IISc is the lead engineering institution in India today and the majority of its students are working toward their doctoral degrees. Here, Deputy Secretary Poneman met Dr. Kamanio Chattopadhyay to discuss progress at the Solar Energy Research Institute for India and the United States, the solar consortium led jointly by IISc and the National Renewable Energy Laboratory.  Deputy Secretary Poneman engaged his hosts in a conversation on lowering the cost per watt of photovoltaic modules and concentrated solar power.
During his visit to the most visited corporate campus in India, Deputy Secretary Poneman met with Infosys Chief Operations Officer Mr. Pravin Rao and the head of Infosys's Green Initiatives, Rohan M. Parikh, who described how the company is redefining corporate benchmarks in innovation and sustainability. The Deputy Secretary was joined by Dr. Girish "Rish" Ghatikar, of Lawrence Berkley National Laboratory's Grid Integration Group, who co-leads the U.S. India Center for Building Energy Research and Development (CBERD) consortium. As sustainability partners, Infosys and Lawrence Berkley National Laboratory work together to reduce energy consumption in corporate buildings. Following lunch, Deputy Secretary Poneman had the honor of planting a tree on the Infosys Bangalore campus.
The Deputy Secretary also toured the test labs of Honeywell, a CBERD industry partner, where he learned about a wide range of energy efficiency solutions undergoing testing at Honeywell, including TCC Cloud, a gas electricity monitoring system; DRAS, a Demand Response Automation Server; Next Gen Air Traffic System, a project focused on fuel efficiency across all phases of flight; and TURBO, a design to increase fuel efficiency and lower carbon emissions in smaller gasoline engines.
With projections that the population of India will grow by 300 million between 2010 and 2030, and that 70 percent of the 2030 infrastructure has yet to be built, India presents an enormous opportunity to make smart energy investments at scale.  Given the Modi government's commitment to renewable energy and energy efficiency, reinforced by the strong interest in pursuing opportunities arising from the private sector, national laboratories and research institutions, India holds great promise to advance its clean energy goals in the years ahead.