You are here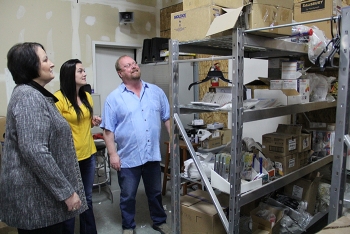 Fluor Idaho Procurement Manager Shawna Southwick, left, inspects inventory with Ashley Quiroz and Mike Hendrickson of Eagle Rock Specialties. The firm has provided outstanding support to Fluor Idaho.
IDAHO FALLS, Idaho – A small, woman-owned company subcontracting to EM Idaho Cleanup Project (ICP) contractor Fluor Idaho is known as the "rock star" of suppliers to the Idaho Site for its timely, around-the-clock deliveries.
   Established in 2009, Eagle Rock Specialties provides water, sports drinks, respirator filters, booties, tools, piping, ice melt and other products to the ICP daily. The company has developed a reputation for coming through in a crunch.
   "They often work on nights and weekends to ensure we have what we need for the projects," said Fluor Idaho Procurement Manager Shawna Southwick. 
   Ashley Quiroz and her father Mike Hendrickson are the lifeblood of the business. Southwick said Hendrickson proactively calls her if he perceives a problem with a shipment. One time, EM's Accelerated Retrieval Project (ARP) needed a special filter for its respirators, but every supplier was out. Hendrickson worked tirelessly to locate 170 cases, which kept the ARP project operating uninterrupted.
   "His actions were definitely above and beyond," said Southwick. 
   The company provided much-needed ice melt — a sought-after commodity during the harsh winter months — which kept employees safe. 
   "We could not ask for a better supplier," said Southwick. "You'd think we were their only customer as well as they take care of us."