Kelly Speakes-Backman, Principal Deputy Assistant Secretary for Energy Efficiency and Renewable Energy (EERE), has said "every day is Earth Day." She's right. At EERE, Earth Day isn't just a day; it's a commitment to clean energy and the environment that is a driving force in our individual careers and our collective work.
Here at the U.S. Department of Energy's Water Power Technologies Office (WPTO), we're invested in one of the Earth's most bountiful and powerful elements: water. The climate emergency is threatening the health of our vast oceans and lively rivers. Their wellbeing—and that of the intricate web of life they support—are critical for the health of our planet and, of course, humans. It's our obligation to help protect these waters, and we can—by harnessing their innate power.
That's why WPTO invests in efforts led by industry, academia, and our national laboratories to advance our understanding and development of water power systems and technologies. Our partners perform work critical to realizing the full potential of water power and contribute to the Biden administration's goals of a 100% carbon-free electric sector by 2035 and a net-zero-emissions economy by 2050.
WPTO's investments are especially relevant this Earth Day and its "Invest in Our Planet" theme. Our ongoing work to accelerate the research, development, demonstration, and deployment of innovative water power technologies is an important investment in the planet and our clean energy future.
In our recent Semiannual Stakeholder Webinar, Kelly Speakes-Backman discussed the Bipartisan Infrastructure Law, which allocates nearly $1 billion for water power programs at the U.S. Department of Energy. There's funding to modernize the hydropower fleet, the backbone of our future clean energy grid, and to advance technologies to mature marine energy, an abundant, untapped renewable energy resource.
This once-in-a-generation investment builds on and complements projects and other activities focused on building tomorrow's clean energy grid.
Our partners are also working hard to monitor, protect, and preserve the wildlife and ecosystems that share space with water power technologies. For example, we're focused on efforts that include:
Monitoring and safeguarding marine wildlife. Through the Pacific Northwest National Laboratory's Triton Initiative, we're exploring ways to monitor potential underwater stressors—like noise—related to marine energy devices to ensure that when we do deploy these technologies, we have the tools and information needed to help protect marine species.
Improving fish passage through hydropower facilities. Freshwater fish, like salmon, must migrate to find food and spawn. Through projects like HydroPASSAGE, we invest in information and tools that support the safe movement of fish through hydropower facilities.
We're also working to better understand the impact of climate change on hydropower operations. This is critical for future operations and planning, but many smaller utilities may not have dedicated, in-house resources for modeling and evaluating climate risks. Earlier this month, we released a request for information that will ultimately help us design research and development initiatives, tools, and datasets that help address the risk of long-term climate change on hydropower generation.
There's a lot of work to do to achieve our nation's clean energy goals, and we can all play a part. At WPTO, we will do all we can to invest in a cleaner future for all Americans today and for many generations to come.
Learn more about WPTO projects that invest in our planet. Receive the latest information on WPTO funding opportunities, events, and other news by subscribing to the monthly Hydro Headlines and Water Column newsletters, as well as the comprehensive, bimonthly Water Wire newsletter.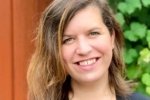 Jennifer Garson
Jennifer is the Director of the Water Power Technologies Office, as well as a Senior Advisor and Acting Program Manager for Outreach, Engagement and Analysis in the Water Power Technologies Office at the U.S. Department of Energy, where she supports research and development in hydropower and marine renewable energy.
more by this author