You are here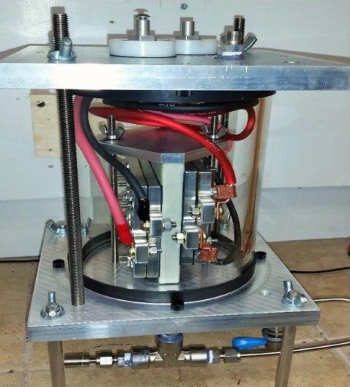 Xergy Inc. and an industrial partner are collaborating on a hybrid water heater that incorporates an Xergy-developed electrochemical compressor. Image: Xergy, Inc.
New HVAC, water heating, and appliance technologies that work without conventional refrigerants are critical for the U.S. Department of Energy (DOE) to reach its long-term goal of cutting building energy use in half and reducing environmental impacts. For the past 100 years, heat pumps, air conditioners, and refrigerators have relied on vapor compression to operate. However, conventional refrigerants used in vapor-compression equipment contribute to global climate change when released into the atmosphere. The good news is that researchers are focusing on multiple potential solutions, and DOE is leading this charge.
Among the innovations being supported by DOE is an electrochemical compressor (ECC) for heat pump water heaters and other applications that could reduce energy consumption by an amount equivalent to the state of Oregon's annual consumption. ECC is a solid-state technology that uses an external voltage to pump a water refrigerant across a membrane. This technique has several advantages over traditional mechanical heat pumps. While current heat pump technology is noisy and carries a high global warming impact, ECC uses water—which does not contribute to global warming—as its working fluid. ECC operation also creates no vibrations and, as such, is noiseless due to its lack of moving parts.
Xergy Inc., a small business from Delaware, is leading the development of this technology. The project reached a major milestone in August 2015, when Xergy shipped the first ECC unit to an industrial partner for incorporation into a prototype 50-gallon hybrid water heater.
"If you're not in the heating and cooling technology industry, it may be hard to appreciate the significance of this milestone. Electrochemical compression has the potential to truly transform the market away from today's vapor compression solutions. This prototype is the Apple I of ECC technology," says Tony Bouza, Technology Manager for HVAC, Water Heating, and Appliances at DOE's Building Technologies Office (BTO).
BTO made a commitment to Xergy's ECC technology, investing more than $3 million through three separate projects. The technology also promises improved efficiency—Xergy estimates that its ECC water heater will be more than 25% more efficient than current state-of-the-art heat pumps with additional environmental benefits. As a result, the potential annual energy savings from widespread adoption of the technology in the water heating market could total 1 Quad, equal to the electricity used by 28 million homes in a year.
"It's no longer a matter of if, but when, this technology will enter the market. We've proven that electrochemical compression is a viable alternative to traditional water heater technologies. Now it's just a matter of refinement to get the package smaller and cheaper so that it can see widespread adoption in the U.S. residential market," explained Bamdad Bahar, President of Xergy.
Once the technology has been refined, Xergy will expand ECC applications to other markets, including home and commercial air conditioners, refrigeration systems, and numerous other heating and cooling applications.
The Office of Energy Efficiency and Renewable Energy (EERE) success stories highlight the positive impact of its work with businesses, industry partners, universities, research labs, and other entities.
Project Overview
Technology History
Xergy Inc. developed the electrochemical compression technology with more than 20 patents in the field
An industrial partner is testing this compressor in a water heater
Innovation
Novel electrochemical compressor that uses water as its working fluid
Benefits
Working fluid (water) does not contribute to global warming
25% improvement in energy efficiency over mechanical heat pumps; one order of magnitude improvement over Peltier/thermoelectric systems
1 Quad in potential annual savings in water heating market; 5 Quads potential annual savings in HVAC market
Solid-state, noiseless, vibration free
Modular, scalable
Other potential applications include HVAC and refrigeration systems, electronics and battery cooling, automotive systems
Recognition
2011 GE Ecoimagination Award