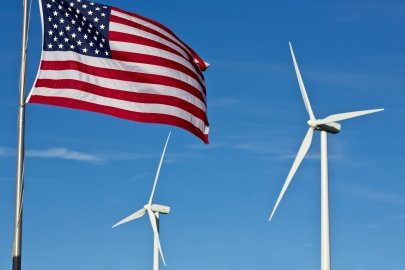 Why Clean Energy Matters
Transitioning the United States to a clean energy economy enhances economic growth, energy independence, and the health and well-being of the American people.
Learn more
STEM education is the foundation of the clean energy workforce. Students in these fields—at every age and grade level—can gain access to a range of job opportunities in the industries and research institutions that are propelling the national transition to a clean energy economy. At the U.S. Department of Energy (DOE), development and enhancement of STEM education—which bear heavily on the success of decarbonization initiatives—is a top priority.
DOE's investments in STEM support student competitions and prizes, career resources for both students and educators, and internships, fellowships, and offerings for graduates and postdoctoral professionals. The Office of Energy Efficiency and Renewable Energy (EERE), manages these investments through the technology offices that make up its three core divisions: renewable energy, buildings and industry, and sustainable transportation and fuels.
STEM and Clean Energy Education
EERE takes several approaches to enhance STEM education in support of clean energy workforce development.
Competitions: Student competitions help prepare high school, college, and graduate students to join the clean energy workforce. These competitions challenge student teams to pursue innovative ideas for clean energy solutions in technology and business. Participants acquire valuable industry experience and exposure to career opportunities while connecting with experts. 
Workforce Opportunities: EERE provides opportunities for students, recent graduates, and others to jumpstart STEM careers through internships, fellowships, and research opportunities with the federal government. As DOE works to increase diversity, equity, inclusion, and accessibility in STEM and across the energy landscape, EERE has designed several programs to attract qualified students from underrepresented communities. 
Educational Program Support: EERE supports STEM programming at colleges and universities and provides resources for educators. In May 2023, EERE launched a $7.75 million prize competition to help Historically Black Colleges and Universities support the creation of clean energy "ecosystems," or community networks, to inspire students to one day work in STEM fields related to clean energy. 
Funding Opportunities: EERE frequently issues funding opportunities, which can be designed to support advancements in STEM education and workforce development. For example, a $4.75 million funding opportunity announced in May 2023 will help create one or more university-led Centers of Excellence to cultivate offshore wind expertise at American universities, address key offshore wind development challenges, and educate the next generation of offshore wind experts in the United States.
STEM News
Learn About EERE's Competitions to Support STEM Education
STEM Careers in Clean Energy
Students and other job seekers can use EERE's career maps to identify how their academic backgrounds may serve as a pathway to a renewable energy career. They can also explore clean energy jobs.
Subscribe to The Weekly Jolt
The Weekly Jolt is a digest of the top clean energy news, tips, events, and information from DOE and EERE.
Follow our Funding Listserv
Sign-up to receive the latest information about EERE's clean energy funding, prize, and competition opportunities.