High Efficiency Solid-State Heat Pump Module
You are here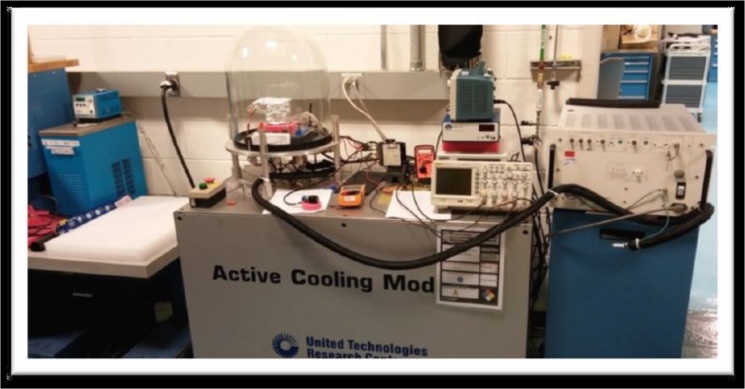 Electrocaloric Calorimeter. Image courtesy of United Technologies Research Center and BTO Peer Review.
Lead Performer: United Technologies Research Center – East Hartford, CT
DOE Total Funding: $1,090,000
Cost Share: $365,000
Project Term: August 2015 – September 2017
Funding Opportunity: Building Energy Efficiency Frontiers and Innovation Technologies (BENEFIT) – 2015
Project Objective
United Technologies Research Center (UTRC) proposes to demonstrate a solid state (refrigerant-free), high efficiency, compact, zero direct global warming heat pump, which has the potential to replace refrigerant-based vapor compression systems. UTRC's extensive system analysis shows that the heat pump has potential to provide primary seasonal COP > 2.5 at a cost premium of <$67/(kBtu/hr). The proposed effort seeks to deliver a TRL3 demonstration of the device. The DOE BTO funding will drastically improve the technology readiness level of this novel technology enabling commercial evaluation by HVAC manufacturers potentially disrupting the HVAC industry (including buildings and automotive) as a whole.
Project Impact
UTRC proposes to demonstrate an electrocaloric heat pump that will be ~50% smaller than current models, run more quietly and likely cost less to maintain because of its simple mechanical design. If fully commercialized, the heat pump could result in annual energy savings of more than 1.5 quads and reduce greenhouse gas emissions by 60 million metric tons.
Contacts
DOE Technology Manager: Antonio Bouza
Lead Performer: S. Ravi Annapragada, United Technologies Research Center
Related Publications