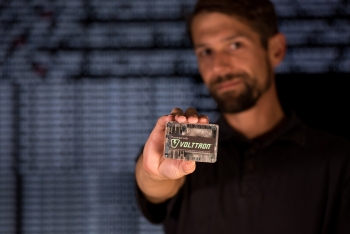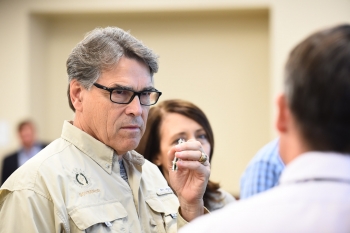 Earlier this month, members of the Pacific Northwest National Laboratory (PNNL) project team that spearheaded development of the VOLTTRON software platform were recognized with the 2017 Laboratory Director's Science and Engineering Achievement Award for Exceptional Team Achievement in Science and Technology.
VOLTTRON is a software platform that communicates with building equipment, sensors, and other physical devices to independently manage a wide range of building services—such as HVAC systems or even entire building loads—to prioritize power needs, improve operational efficiency, and reduce building energy use. VOLTTRON can provide a real-time, scalable distributed control and diagnostics capability that enables the integration of modern building energy systems; this capability sits at the heart of BTO's vision of a future where connected building equipment and systems coordinate to efficiently meet owners' and occupants' needs, and where buildings regularly transact with other buildings and the grid in ways that benefit our entire energy system.
Each year, the PNNL director awards one research team for significant contributions to relevant scientific and engineering fields. The VOLTTRON team was recognized for its creation of this software platform, as well as for transitioning this platform to multiple vendors to implement energy efficiency, diagnostics, and transactive energy methods.
Announcement of the VOLTTRON team award came days after Energy Secretary Rick Perry toured PNNL's Washington State campus with U.S. Senator Maria Cantwell and U.S. Representatives Greg Walden and Dan Newhouse. During their tour, the Secretary and the Members of Congress were briefed on the VOLTTRON project, including its use in PNNL's Clean Energy and Transactive Campus project, where behind-the-meter, VOLTTRON-based controllers are being used for the first time to conduct transactive energy experiments involving multiple buildings and devices across several campuses.
The PNNL Director's Science and Engineering Achievement Awards honorees will be recognized during PNNL's Pathway to Excellence Award Banquet in September 2017.