Clean energy has had a big year in 2014. The solar industry continues its record-breaking pace, new commercial-scale cellulosic ethanol bioenergy facilities have come online, and manufacturers have improved energy efficiency at facilities throughout the nation. These are just a few of the milestones and accomplishments that the Office of Energy Efficiency and Renewable Energy (EERE) has played a role in.
Here on EERE Blog, we tell these and other stories related to the Energy Department's efforts to develop and deliver market solutions for energy saving-homes, buildings, and manufacturing; sustainable transportation; and renewable electricity generation. This past year, we published more than 170 articles on technologies and projects that are advancing the clean energy economy.  Below are the five most popular EERE Blog articles of 2014:
Thanks for reading EERE Blog, and we look forward to keeping you updated on more Energy Department projects in 2015 that are making a big market impact and creating a more sustainable future.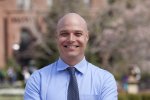 Paul Lester
Paul Lester is a Digital Content Specialist in the Office of Public Affairs. Paul was born in Ohio but spent most of his life in Florida, where he worked as news researcher/archivist and online editor for the Orlando Sentinel.
more by this author