You are here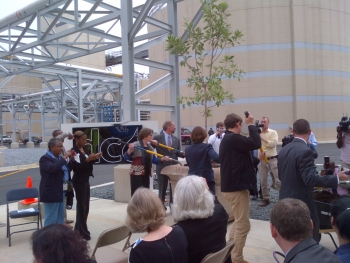 Earlier this week, I attended and spoke at the unveiling of DC Water's Blue Plains $470 million waste-to-energy plant. This new facility, which turns sewage waste into useful energy, is the first of its kind in North America. It uses thermal hydrolysis technology to "pressure cook" solids prior to going through the anaerobic digestion process which creates methane. The methane is captured and used in a combined heat and power (CHP) system to produce one-third of the energy needs of the 157-acre Blue Plains plant. The CHP system significantly reduces the Blue Plains operating costs—an electrical cost savings of about $10 million per year—while also producing less carbon dioxide that is harmful to the environment.
The plant, with capacity to treat 370 million gallons of sewage per day from D.C., Maryland and Virginia, can produce up to 13 megawatts of power from its waste. Additionally, it has reduced the quantity of biosolids by approximately 50%, which reduces the amount of diesel fuel used for hauling and generates substantial additional savings. The new digester process creates a higher grade Class A biosolids product, which can be used as fertilizer for landscaping and gardening.
At the event, I participated in the planting of a tree which utilized the Class A biosolids. I was joined by several local and federal officials, including District of Columbia Mayor Muriel Bowser, Rep. Eleanor Holmes Norton, Environmental Protection Agency Acting Deputy Administrator Stan Meiburg, and DC Water CEO and General Manager George S. Hawkins.
I was excited to be there to help highlight the role CHP can play at wastewater treatment facilities.  Combined heat and power technology is perfectly suited for recovering energy from these energy-intensive processes. CHP technology can be deployed quickly, cost-effectively, and with few geographic limitations, which is great because there are approximately 1,000 sites across the country that could benefit from this technology—saving money and the environment.  As these plants are critical infrastructure, this also serves national security, as CHP systems can be configured to reduce vulnerability to power disruptions and keep them operational regardless of what's happening around them.
Here at the Energy Department—where we're currently celebrating Energy Action Month—we have collaborated with the District of Columbia Water and Sewer Authority over the years, providing technical assistance for the CHP system.  We provide CHP assistance through a set of regional CHP technical assistance partnerships, through the State Energy Program, and through our Better Plants and Superior Energy Performance programs.
The CHP system as the Blue Plains plant provides a cost-effective, near-term opportunity to improve our region's energy, environmental, and economic future. For more information on the Blue Plains facility and its capabilities, please visit: dcwater.com/digesterdedication. For more information on combined heat and power and how it might be a good fit for you, visit www.energy.gov/chp or send the CHP Deployment Program an email at CHP@ee.doe.gov