You are here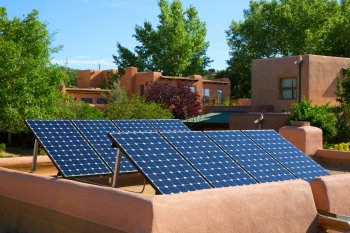 This solar system, installed at a home in Santa Fe, benefitted from the New Mexico Solar Market Development Tax Credit.
New Mexico continues to cultivate a vibrant, dynamic solar energy economy. According to the Solar Energy Industries Association and GTM Research, New Mexico's current installed solar capacity of 400 megawatts (MW) ranks 13th in the country. Also, according to the Solar Foundation, New Mexico's solar industry employed about 2,000 workers as of November 2015. Employers in the solar business are expected to expand their payrolls by 12.3% this year in the state known as the Land of Enchantment.
The Energy Department's State Energy Program (SEP) has been critical to this growth. Between 2008 and 2014, SEP invested more than $2 million in in New Mexico's State Energy Office – the Energy Conservation and Management Division.
Since its inception in 2008, the solar market development tax credit has been one of the most formidable tools for catalyzing photovoltaic growth across New Mexico. The tax credit has resulted in the installation of more than 40 MW of solar systems statewide, in the residential, commercial, and agricultural sectors, and catalyzed an investment of more than $223 million in solar photovoltaics (PV).   
Under the program, New Mexico has allocated 1,100 tax credits for 2016, representing more than $30 million in customer investment and 7 MW of solar power.
This investment by the Energy Department's State Energy Program builds on successful energy efficiency and renewable energy projects implemented by the state in previous years. In 2015, SEP chose New Mexico for a competitive award to help support five low-income communities in their bid to advance energy management of their wastewater treatment facilities. In 2014, SEP chose New Mexico for a competitive award to help remove barriers to energy efficiency and renewable energy investments by providing guidance to local governments relating to Energy Savings Performance Contracts (ESPCs). An ESPC is a partnership between an energy service company and a school district, local government, state agency, or federal agency. It allows these public entities to procure energy savings and facility improvements with no upfront capital costs.
The Energy Department's State Energy Program provides funding and technical assistance to energy offices in states and U.S. territories to advance local clean energy priorities while contributing to national energy goals. Learn how the State Energy Program is making a difference in other states.