You are here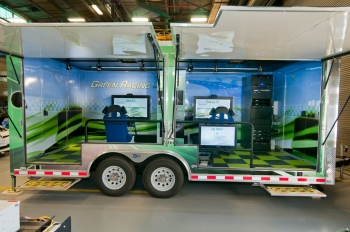 Drivers can learn about fuel efficiency in the Green Racing Simulator which models a hybrid race car. Photo: courtesy of Argonne National Laboratory
On June 22, the Office of Energy Efficiency and Renewable Energy (EERE) is hosting a free Sustainable Transportation Day at the Energy Department's headquarters in Washington, D.C. Together, EERE's Bioenergy Technologies Office, Fuel Cell Technologies Office, and Vehicles Technologies Office will staff vehicle exhibits and a networking event open to the public. Register now to attend! 
Sustainable Transportation Day promises to be fun, educational, and a great opportunity to network with Energy Department leadership and other government and industry stakeholders in conjunction with the Bioenergy 2015 conference. The event will showcase how EERE's strategic investments in the research and development of sustainable transportation technologies are improving vehicle efficiency and advancing the use of alternative fuel vehicles.
At the vehicle exhibits, you can enjoy the Green Racing Simulator, the SuperTruck, the 3-D printed Shelby Cobra, and some of the world's first commercial fuel cell and electric vehicles. Check out the innovative vehicles and "take a spin" on the Green Racing Simulator, which models a hybrid race car and gives racers a "green score" based on how much petroleum they save through "clean, fast, and efficient" driving. The 3-D printed Shelby Cobra car is a "plug and play" laboratory on wheels that can test batteries, fuel cells, and other advanced vehicle technologies.
Sustainable Transportation Day Event Hours
11:00 a.m.–2:00 p.m. Vehicle Exhibits open to the general public
3:00 p.m.–5:00 p.m. Networking Event and Vehicle Exhibits open to Bioenergy 2015 attendees, industry representatives, and government and nonprofit stakeholders.
The Energy Department's Bioenergy Technologies Office's conference, Bioenergy 2015: Opportunities in a Changing Energy Landscape, co-hosted by the Clean Energy Research and Education Foundation, follows with two days of expert speakers discussing the hottest topics in energy today.