Nearly 100 Clean Cities coalitions work to reduce petroleum use in communities across the country. Led by Clean Cities coordinators, coalitions are composed of businesses, fuel providers, vehicle fleets, state and local government agencies, and community organizations. These stakeholders come together to share information and resources, educate the public, help craft public policy, and collaborate on projects that reduce petroleum use. Click on a region for more information.
This article is part of the Energy.gov series highlighting the "Top Things You Didn't Know About…" Be sure to check back for more entries soon.
10. For 20 years, the Energy Department's Clean Cities program has supported local actions to reduce oil consumption in transportation. But ever wonder how the program got its start? Clean Cities was created in response to the Energy Policy Act of 1992 to provide resources for required and voluntary adopters of alternative fuel vehicles.
9. Since the program started, local Clean Cities coalitions have grown from six in 1993 to nearly 100 today, representing almost 75 percent of the U.S. population. These coalitions -- which are made up of private companies, fuel suppliers, local governments, vehicle manufacturers and community organizations -- work to advance alternative fuel use by educating drivers and fleet owners, overcoming technical hurdles and collaborating on transportation projects.
8. Our National Parks are reducing air pollution and lowering their fuel costs as part of the Clean Cities National Parks Initiative. Check out a map of the National Parks Initiative partners to learn how they are using alternative fuels, incorporating advanced vehicle technologies into their fleets and educating park visitors about sustainable driving habits.
7. Clean Cities coalitions have helped deploy nearly 550,000 alternative fuel vehicles on the road today and in 2012 alone saved almost 400 million gallons of oil. More than 55 percent of this savings came from vehicles that run on natural gas.
6. In order to meet the fueling needs of these vehicles, Clean Cities helps develop fueling infrastructure across the country. The program installed nearly 1,500 charging and alternative fueling stations as part of the American Recovery and Reinvestment Act.
5. Through the National Clean Fleets Partnership, Clean Cities works with large companies to integrate alternative fuels and fuel economy improvements in their fleets. Since President Obama announced the initiative in 2011, more than 20 partners, including FedEx and UPS, have joined the National Clean Fleets Partnership. These partners represent some of the nation's largest commercial fleets and collectively operate more than 1 million vehicles.
4. Clean Cities has funded more than 500 transportation projects nationwide that leveraged more than $740 million in funds from other organizations in the public and private sectors.
3. In 2012 alone, Clean Cities activities -- which include idle-reduction measures and fuel economy improvements -- helped prevent nearly 7 million tons of greenhouse gas emissions. That's like taking nearly 2 million cars off the road for an entire year.
2. Clean Cities has saved nearly 5.4 billion gallons of petroleum since 1993. In the past six years, Valley of the Sun Clean Cities coalition in Phoenix, Twin Cities Clean Cities in Minnesota and Southern California Clean Cities have displaced a total of about 135 million gallons of gasoline each.
1. Did you know: There are nearly 11,900 public plug-in electric vehicle and alternative fueling stations across the U.S. Whether you are looking for hydrogen, biodiesel, natural gas or electric charging stations, the Alternative Fuels Data Center -- the clearinghouse for Clean Cities' alternative fuel and vehicle information -- maps out the different fueling locations available across the country.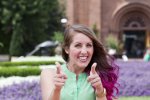 Rebecca Matulka
Served as a digital communications specialist for the Energy Department.Served as a digital communications specialist for the Energy Department.
more by this author