You are here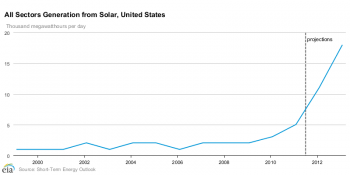 Growth of Solar Power Electricity Generation in the United States, 1999-2013 | Chart provided by the U.S. Energy Information Administration
The amount of electricity the United States generates from solar power has started to grow rapidly and is projected to reach 18,000 megawatt hours per day in 2013.
A growing solar industry presents a tremendous economic opportunity for the United States, and that is why the Energy Department's SunShot Initiative supports America's best solar energy entrepreneurs and innovators. This July, SunShot launched an $8 million investment in the SunShot Incubator program, enabling nine startups to combine new ideas, advanced technology, and their own ingenuity to reduce the non-hardware, or "soft" costs, of installing solar panels. The Energy Department's National Renewable Energy Laboratory is also supporting this effort, providing the data that underlies New York's innovative Solar Map.
Want to learn more about this increasingly important source of electricity? Check out this article on the "Top 6 Things You Didn't Know About Solar Energy."
The data for this graph is provided by the U.S. Energy Information Administration. You can create your own charts and graphs based on the Short Term Energy Outlook using their Custom Table Builder.