You are here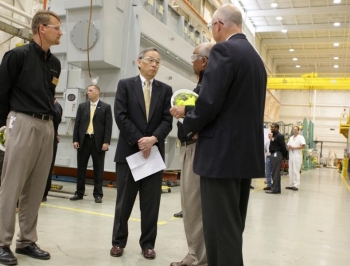 Employees of the Waukesha Electric Systems give Secretary Chu a tour of the transformer manufacturing plant. | Courtesy of Waukesha Electric Systems
While Americans head to the box office this weekend to check out the latest "Transformers" movie on the big screen, the Energy Department's Secretary Chu checked out a different kind of transformer being manufactured in Wisconsin.
They may not be as charismatic as Optimus Prime or Bumblebee, but the transformers manufactured at Waukesha Electric Systems are joining our battle to modernize the electrical grid for the 21st century. They are more than 99.5 percent efficient at converting electricity!
Secretary Chu visited the Waukesha Electric plant earlier today to check out their expansion project, which is expected to be completed by the end of this year.
Waukesha Electric has been involved in designing and manufacturing medium power transformers since 1970. The company received $12.5 million from the Energy Department's Advanced Energy Manufacturing Tax Credit, which enabled the expansion. The new section will allow Waukesha Electric to expand their manufacturing operation to include large and extra high voltage power transformers as well.
Like the Secretary always says, we want products that are invented in America, made in America and sold around the world. And that's exactly what's happening with transformers in Wisconsin.
That also means new jobs for Wisconsin. The existing Waukesha Electric plant currently employs 500 workers. The new section is expected to create about 250 additional jobs over three years. Most of those jobs will be for skilled production employees, but there are also several positions for engineering and technical staff.
And that doesn't include the 100 construction workers who have been on site hard at work on the expansion.
The company is also making sure employees can learn the specific skills they need to be successful on the job with an on-site training facility. That, and the partnership with other local employers and workforce development agencies, will go a long way toward attracting and preparing potential workers.
In addition to expanding the Wisconsin facility by 50 percent, the transformers will also replace aging, less efficient transformers in the system, increasing the reliability of the nation's power grid.