You are here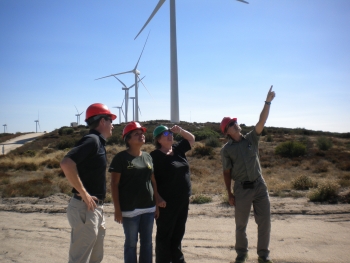 Laura Quaha of the Campo Kumeyaay Nation and Melissa Estaes with the Campo Environmental Protection Agency accompany START team members at a September 2012 wind site assessment on the Campo Indian Reservation in San Diego County, California. | Photo by Alexander Dane, National Renewable Energy Laboratory
Today, the Obama Administration hosted its fourth annual Tribal Nations Summit that brings together more than 200 federally recognized tribal leaders to work directly with top federal government officials on important environmental and economic challenges. The Office of Indian Energy works across the Administration to continue this important dialogue with tribal leaders on their energy needs.
At the Summit, we shared several continuing and new initiatives for 2013. These initiatives include expanding the Strategic Technical Assistance Response Team (START) program -- which provides technical support to nine federally recognized Indian Tribes and Alaska Native villages to advance their clean energy technology and infrastructure projects -- with a second round of technical assistance awards.
We are also launching a new opportunity focused on utility planning, called START-UP. Through this new program, we will help tribes across the country develop their own tribal utilities and increase ownership of their local energy assets. We've already developed and rolled out new tools to build tribal energy knowledge and skills, including an extensive updated tribal energy resource library as well as interactive education programs focused on renewable energy project development and finance on tribal lands.
Over the past year, we have built out world-class energy expertise to work side-by-side with tribal leaders and staff across the country, including joining with energy experts at our National Labs and at other federal agencies. In Alaska, we're working with the Denali Commission to provide Alaska Native leaders and staff with utility management and community-scale energy planning training. For example, with the help of the START program, the Venetie Village Council has reinstated Power Cost Equalization, a program that helps rural communities in the state lower their energy bills. 
Our technical support services also extended beyond the START program participants to other tribal communities, where experts from across the Department and its National Labs have assisted with installing renewable energy systems, facilitating strategic partnerships and discussions, and implementing solutions to tribal energy and environmental challenges.
In Nevada, the Energy Department worked with the Moapa Band of Paiutes to conduct technical and cost analysis for the Tribe's 250-megawatt solar generation project. Last month, the project received a long-term power purchase agreement from the City of Los Angeles – helping to power roughly 118,000 homes with Tribal-owned energy. Moapa Band of Paiutes Chairman William Anderson shared how the Tribe was participating in a solution that protects the environment and supports economic development.
"The next generation is being trained right now to build solar panels," he said. "From there our tribal members can move on to build the next solar plant and will have meaningful careers instead of just having jobs. Through education and training, they will not only understand the whole process but have a reason to be proud of being Native American because we are creating solutions to protect our land, plants and animals."
Working side-by-side with these tribal energy leaders, we're making sure these projects are moving from vision to action -- helping to stabilize energy costs, enhance energy security and promote tribal self-determination.