"It'd be really cool to see women in STEM careers on posters in the hall, in our history and science texts, and visit our classes," says a 14-year-old girl who is in eighth grade. "I don't know what to focus on. But my tests say I'm a good engineer and I wish I knew what that looked like in real life."
Her views were shared in a study released this year by Microsoft and KRC Research. She is one of thousands of voices in hundreds of research studies that have heralded the value of strong role models for girls, to show girls there are successful women in science, technology, engineering, and mathematics (STEM) fields who have similar interests, backgrounds, and stories.
Today, the Energy Department rolled out the first set in a series of posters to highlight prominent historical and present-day inventors, astronauts, explorers and mathematicians. Download and print the posters now on any home or office printer for use in classrooms or after-school programs.
This series features:
Mae Jemison (1956 - ) Mae is the first African American woman in space, traveling aboard the Space Shuttle Endeavour in 1992. She entered college for chemical engineering at Stanford University when she was only 16 years old. She is also a trained medical doctor, dancer, actress, author, and teacher.
Annie Easley (1933 – 2011) Annie was a computer scientists, mathematician, and rocket scientist who worked at NASA, starting before it was even called NASA. She co-authored numerous papers about nuclear engines in rockets throughout her career. In her personal life, she trained African Americans to take the voting test that Alabama required prior to the 1960s civil rights law which banned that practice.
Chein Wu (1912 – 1997) Chein was an experimental physicist who worked on the Manhattan Project in Hanford, Washington. Her experiments helped two colleagues win the 1957 Nobel Prize in Physics. Chein taught at Princeton and Columbia Universities and won many awards for her work.
Ellen Ochoa (1958 -) Ellen is the first Hispanic woman in space, traveling aboard the Space Shuttle Discovery in 1993. She worked as a researcher at Sandia National Laboratory, where she co-invented two patents for hybrid optical/digital image processing before she began her NASA career. She is a classically trained flutist and has four schools named after her in three states (so far!).
One of the most powerful ways for a young woman to pursue STEM is to have someone encourage her to do so. Stories, visits by STEM professionals to classrooms and events, and images of women in STEM show girls the possibilities available to them, and make it harder to fall into stereotypes that boys and men are more accomplished than girls and women in these fields.
Gender diversity in STEM is good for the global economy and for business. For instance, a McKinsey January 2015 report found that gender-diverse companies are 15% more likely to outperform companies that rank lower in diversity.
It's good for increased innovation, good for decision-making, and good for the stability of our future workforce in the energy sector and at the Energy Department.
If you can see it, you can be it.
For more information on the Department of Energy's STEM resources like events, classes, open houses, and student competitions, visit www.energy.gov/STEMRising.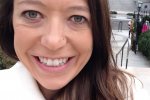 AnneMarie Horowitz
AnneMarie Horowitz has been with the Energy Department since 2010 and is a Public Affairs Specialist on the digital strategy team in the Office of Public Affairs.
more by this author