Today is Tax Day. You've checked a huge to-do off your list. But now, believe it or not, it's time to get excited for the next go-around.
Thanks to President Biden's Investing in America agenda, millions of Americans who purchase clean energy and energy efficient products over the next decade will be able to claim tax credits worth hundreds to thousands of dollars on their next returns. And after they get that initial payment, they'll continue saving money every single day.
The average Texas household spends roughly $1,800 each year on heating, cooling, water heating, lighting, and powering their appliances and electronics. Add in trips to the gas station, and annual energy costs stack up. By switching to clean energy technologies and boosting efficiency, households can lower these bills considerably.
Take heating and cooling. Simple steps like installing insulation and sealing leaky doors and windows can reduce those bills by as much as 15 percent per year. And now, you can get up to $2,000 of the upfront costs on your tax return. Not sure where to start? You can have an energy auditor inspect your home for opportunities to cut energy use — and get a tax credit of up to $150 off their services.
Then, when it's time for a new HVAC system, you can install a heat pump — which can heat and cool your home with far greater efficiency than a standard furnace or air conditioning unit. One study estimates that homes using electric heat pumps with a level of efficiency that corresponds with the Environmental Protection Agency's ENERGY STAR certification saved hundreds of dollars on heating this past winter, compared to those using natural gas or oil. Little wonder why heat pump sales are rising. And now, buying one entitles you to a credit of up to $2,000.
You can bring down your water heating costs with a heat pump, too. An ENERGY STAR-certified heat pump water heater can save a family of four nearly $500 a year, and it's eligible for a similar credit up to $2,000.
What about lighting, appliances and electronics? All three depend on electricity. Start generating it at home, and powering those devices gets far more affordable. Homeowners can get a solar tax credit to cut 30 percent off the price of a solar panels and installation, amounting to $7,500 off for the average household. Those solar panels will shave roughly $400 off annual electricity bills, delivering a net savings of $9,000 over the panels' lifetime. 
Folks who take pride in self-reliance should also look at the 30 percent tax credit for a new battery storage system. Paired with a solar array, on-site storage gives you a backup power source during an outage. That means you'll have extra peace of mind during the next deep freeze or heat wave — and you might even be able to make some money helping your fellow Texans by sending some of that power back to the grid.
Switching to an electric vehicle could offer similar benefits. Depending on your income and the model of the car you're considering, you might qualify for a tax credit of up to $7,500 for a new EV, or up to $4,000 for a used one. And many electric car and electric truck batteries can serve as an external power source for a building with the help of an inverter — or two-way flow charging equipment, which is also now eligible for a 30 percent credit.
That EV will be far less expensive to drive and repair than a gas-powered equivalent. The average EV driver saves over $1,000 a year on fuel and maintenance. And this administration is committed to giving you the confidence that you can get anywhere with an EV. We're investing billions of dollars to build a national network of public EV charging stations that will make range anxiety a thing of the past.
Altogether, if you took advantage of even just a few of these tax credits, your household could get back as much as $17,000 on product and installation costs — and save roughly $3,000 on your energy bills every year.
Each of these credits is available for the next ten years. So, if you can't make these purchases or home improvements yet, you've got plenty of time to take advantage.
When you do, you'll be able to buy products that are stamped "Made in America." Since President Biden took office, planned investments in America's solar and battery supply chains have topped $95 billion. That will support over 200 new or expanded manufacturing facilities, nearly a dozen of which will be in Texas. By going clean, you'll be helping us grow demand for greater investment — creating new American jobs and making the United States a global powerhouse for new energy manufacturing.
This is a chance to serve the country by saving money. So get your projects started now — just remember to keep your receipts.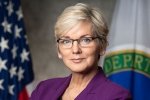 Jennifer M. Granholm
Jennifer Granholm is the 16th U.S. Energy Secretary, the second woman in history to lead the Department of Energy. She is leading Departmental priorities to combat the climate crisis, create clean energy jobs, and promote energy justice.
more by this author