In this short documentary, we follow three student teams who participated in the 2016 U.S. Department of Energy Collegiate Wind Competition in New Orleans.
The competition provides undergraduate students real-world skills they need to enter tomorrow's clean energy workforce. The challenge is to:
develop and deliver a business plan,

establish a deployment strategy, and

build and test a wind turbine.
Go to Energy.gov/CWC to learn more about the competition and why it's important for America's wind energy future.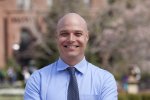 Paul Lester
Paul Lester is a Digital Content Specialist in the Office of Public Affairs. Paul was born in Ohio but spent most of his life in Florida, where he worked as news researcher/archivist and online editor for the Orlando Sentinel.
more by this author