Energy powers everything. Energy from
fossil fuels
,
nuclear
,
renewables
, and other sources produces electricity for homes and businesses, provides fuel for cars and planes, and much, much more. But how can we understand the role energy plays in our daily lives and how can we manage it? Good news! The Energy Department has resources that can help. Here are just a few free online data tools you can use in 2019 and beyond. 
Sample these sweet energy unit calculators.
These handy U.S. Energy Information Administration (EIA) calculators convert all sorts of energy units, like the ones used in coal, electricity, natural gas, crude oil, gasoline, and even food. Here's a sweet stat: did you know that the energy in a 300-calorie ice cream cone is about the same as the amount of electricity required to light a 100-watt light bulb for 3.5 hours? Try it yourself! 
High gas prices can take a big bite out of your wallet. Get weekly updates from EIA and stay on top of price trends in your region. You can also see the price breakdown for an average gallon of gas — for instance, for a gallon of regular gas that costs $2.65, 54% of that amount goes towards crude oil. Looking for ways to save fuel and money on your drive? FuelEconomy.gov has cost calculators, gas mileage tips, and more. 
Find a place to refuel and recharge.
Do you drive a car that runs on biodiesel, ethanol, electricity, or other type of fuel? Find a refueling or recharging station with the Alternative Fuels Data Center's locator tool. The database, which includes more than 29,300 stations, is also available as an iPhone or Android app so you can find a station while you're on the go. 
Keep an eye on heating costs this winter. 
EIA's Winter Fuels Outlook forecasts residential heating prices for various fuel types to help you determine what you should expect to pay to stay warm during colder months. This winter, EIA expects natural gas bills to rise by 5%, home heating oil by 20%, and electricity by 3% on average. Interested in learning more about home energy use? EIA's Residential Energy Consumption Survey has data that helps you get a clearer picture about how energy is consumed in homes in your region and across the nation's 118.2 million households.
This cool calculator lets you estimate energy use for certain appliances and electronics. This can help you figure out how much you're spending on electricity for these devices and identify opportunities to save money, like switching to newer, more energy-efficient appliances. Check out EnergySaver.gov for more tools, tips and resources to save energy and money at home all year.
Size up solar energy systems. 
Are you interested in going solar in 2019 but aren't sure if it's worth the investment? The National Renewable Energy Laboratory's popular
Solar PV Watts Calculator
allows homeowners to estimate the potential performance of photovoltaic systems, how much electricity these systems can produce per month, and more.
Just plug in your ZIP Code
to get started. Ready to take the next step?
Check out this guide
from the Solar Energy Technologies Office.
Wind energy is becoming a bigger part of America's energy mix, with utility-scale wind farms contributing 10% of total electricity generation in 14 states, and more than 30% in four of those states. However, smaller wind turbines are powering a larger share of American homes too. According to the Energy Department's most recent wind market report, the total installed capacity for distributed wind energy now stands at 1,076 megawatts. Also, in 2017, 35% of new distributed wind projects were installed at homes across the United States.  But how can you determine if wind is a viable option for your home? This map available on WindExchange enables you to identify if there are enough wind resources where you live. There's also a wind energy guidebook and more information about small wind electric systems to help you decide if wind could work for you.
Track disruptive weather. 
Wild weather can wreak havoc on energy infrastructure near you. Track potential impacts and get up-to-date storm information with EIA's Energy Disruptions map.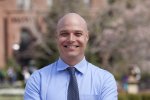 Paul Lester
Paul Lester is a Digital Content Specialist in the Office of Public Affairs. Paul was born in Ohio but spent most of his life in Florida, where he worked as news researcher/archivist and online editor for the Orlando Sentinel.
more by this author