Pop quiz: When water is electrolyzed, what fuel is formed? If you guessed hydrogen, congrats! You just may be as smart as a middle schooler!
That's just one example of the type of rapid-fire questions student teams may face at the final match of the National Science Bowl, the Energy Department's nationwide academic competition that tests students' knowledge in all areas of science and mathematics. The National Science Bowl not only aims to inspire students to excel in science, technology, engineering, and math, but also pursue STEM careers later in life. Previous National Science Bowl competitors have gone on to start businesses, work at tech companies, and more!  
The festivities kick off this Thursday, April 25, when students from around the country arrive in Washington, D.C., and culminates with the middle and high school championship matches on Monday, April 29, at George Washington University's Lisner Auditorium.
Here are a few more things to know about the National Science Bowl:
1. Thousands of students have participated so far this year. About 14,700 students representing more than 3,000 middle and high school teams from every state, the District of Columbia, and Puerto Rico took part in the regional competitions earlier this year. 
2. The cream of the crop are in D.C. Of the thousands of teams from the regional competition, just 64 high school and 48 middle school teams earned the right to advance to the pressure-packed national finals. But it won't be all stress for these stellar students. Teams will have some time to take in the sights in our nation's capital -- touring monuments, museums, and the National Mall.
3. Twenty-eight years ago...1991 was a pretty great year. Disney released the animated classic Beauty and the Beast, legendary basketball player Michael Jordan won his first NBA title with the Chicago Bulls, and the first-ever National Science Bowl was held. The competition has grown quite a bit since then. Seventeen teams competed in the first competition 28 years ago, but this year 112 middle and high school teams will battle for the championship. About 305,000 students have been involved in National Science Bowl since the competition began in 1991.
4. California, the land of champions. When it comes to winning National Science Bowl championships, no state does it better than California. So far, teams from the Golden State have racked up 11 high school championships and six middle school championships. Virginia high schools and Indiana middle schools each have four titles.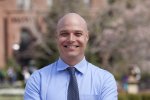 Paul Lester
Paul Lester is a Digital Content Specialist in the Office of Public Affairs. Paul was born in Ohio but spent most of his life in Florida, where he worked as news researcher/archivist and online editor for the Orlando Sentinel.
more by this author