You are here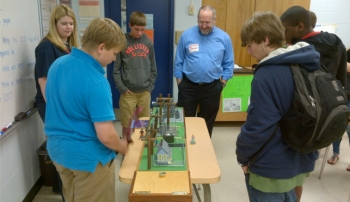 Southeastern employee, Dale Jett, uses a power system mockup to explain how power is distributed to homes.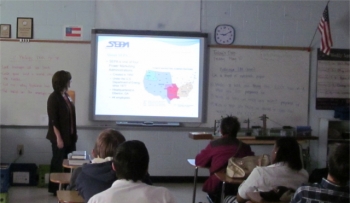 Southeastern employee, Sonya Hulme, describes the Power Marketing Administrations and the ares that each one supports.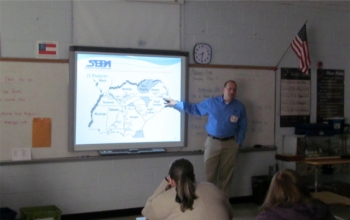 Southeastern's Assistant Administrator for Finance and Marketing, Virgil Hobbs, describes the 22 different hydroelectric projects in Southeastern's region.
On Friday, May 10th, three employees of Southeastern Power Administration visited a 9th grade class of Oglethorpe County High School.  The visit started with Sonya Hulme of Southeastern presenting an overview of Southeastern and was followed with Virgil Hobbs of Southeastern presenting a series of slides describing how hydroelectric power is generated and delivered to the preference customers.  These presentations were followed with a demonstration of how an electric power system works using a working model.  Dale Jett of Southeastern explained the different components of the working model and then allowed the students to examine the model and operate the generator.