This is part of a continuing profile series on the directors of the Department of Energy (DOE) Office of Science user facilities. These scientists lead institutions that provide researchers with the most advanced tools of modern science including accelerators, colliders, supercomputers, light sources and neutron sources, as well as facilities for studying the nano world, genomics, the environment, and the atmosphere.
Meet the director:
Biological parents pass down physical traits to their children. Microbial geneticist Nigel Mouncey's father passed down not just his genes, but a love of the science examining them as well.
"I've always been into science. My dad was a microbiologist," Mouncey said. He and his father still joke about him inheriting that trait. "It was a no-brainer to pursue microbiology, given the genetic inheritance from my father."
Like his dad, Mouncey first pursued microbiology. But as he finished his Ph.D. at the University of Sussex, scientists were wrapping up the first-ever sequencing of an organism's DNA. This new field sparked his interest. Twenty-four years later, Mouncey is now the director of the Joint Genome Institute (JGI), a Department of Energy (DOE) Office of Science user facility at DOE's Lawrence Berkeley National Laboratory (LBNL). Both Mouncey and the JGI have been studying genomics since the field's early years and evolving along the way. With Mouncey at the helm, the JGI continues to grow as a leader in the field of genomics.
The director's background:
At first, Mouncey's career path looked straightforward. The logical route seemed to lead to academia. Then industry came calling. A position at Roche, a European pharmaceutical company, turned into a 20-year industrial career. But in his last position—at Dow AgroSciences—he started to reconsider his future.
"Do I go down the business path or do I go towards discovery science?" he mused. "I did a little internal soul-searching and realized my passion is really in discovery science. That's what really energizes me when it comes to my work."
With that purpose, heading the JGI was the perfect fit. The facility enables nearly 1,900 users a year to explore the genomic diversity of life.
As Mary Maxon, LBNL's associate laboratory director for biosciences, said, "He brings insights from both academia and industry that can be brought together to drive the JGI ? to a whole new focus."
The Facility:
Since 1997, when it was set up by DOE to support the Human Genome Project, the JGI has been analyzing genetic information. The JGI now supports efforts to develop renewable biofuels and bioproducts, understand the carbon cycle, and study how nutrients and heavy metals move through the environment.
DOE support in 2018 alone made it possible for the JGI to sequence more than 200 trillion bases of DNA—far more than other research institutes.
"We have capabilities that few institutions can mirror," said Mouncey.
While it started with the human genome, the JGI's resources have transitioned away from biomedical applications to analyzing plant, fungal, and microbial genomes. Examining the genes of poplar trees, switchgrass, and soybeans helps scientists learn how to grow them more efficiently and on less fertile land. By studying fungi, scientists aim to understand how fungal species break down plant cell walls as well as how they support or limit how plants grow. Because microbes influence how almost every organism on Earth functions, the JGI scientists are delving into their genomes.
Even though the JGI researchers have 59 billion genes in their microbial database, it represents only a fraction of what's out there. Researchers are also working to sequence the genes of whole communities of microorganisms. In the Great Prairie of the American Midwest, a single gram of soil can contain more than 100,000 different species.
Staff at the facility do so much more than determining the order of DNA base pairs.
"JGI is resilient in that it has evolved to provide more options and value for users over time," said Maxon. "Resilience and the ability to get ahead of technology advancement is a huge strength of a federal institution [like DOE]."
The JGI's scientists are working to understand what functions genes code for, what roles those traits play in an organism, and how those traits affect how organisms interact with the larger environment. They're also working on designing and building strands of DNA that enable them to more closely study gene function.
"Now we're really diversifying beyond sequencing to have a whole set of advanced genomic technologies," said Mouncey.
All of this data doesn't just sit at the JGI. Staff members post the data to a set of public online databases for scientists all over the world to access and use freely.
Ordinary day:
Running such a diverse facility requires that Mouncey draw on a broad set of skills. From scientific strategy to facilities management, he does it all.
"I get to bridge both of these worlds in my day-to-day work," he said. "I don't ever have a typical day."
Currently, one of his favorite parts of the job is running a new scientific research group that focuses on the genes that code for secondary metabolites, chemicals that organisms produce that aren't essential to growth, reproduction, or development. But secondary metabolites often provide organisms with other evolutionary advantages. They also have many traits scientists can learn from to improve agriculture and medicine.
"[It's] just a huge space of undiscovered, rich chemistry that's out there," he said. "We don't know what we're going to find. We went in with some expectations and already, with an initial analysis, it turns out those expectations were totally wrong."
He also spends a great deal of time informing scientists of the resources the JGI has to offer. These resources include the Integrated Microbial Genomes and Microbiomes Portal, a searchable database that includes more than 54 billion genes.
"It's become quite clear to me that people know us as a sequencing center and they just don't know us doing all of these other types of activities that can really enable their science to be more impactful," he said. He intends to change that perception.
Typical experiment:
Studying the genomes of viruses is one of the JGI's most promising areas of research. While viruses are the most abundant biological entity on Earth, many of them are impossible to cultivate in the lab. The need to collect them from their natural environments and keep them alive makes them particularly difficult to study. Technologies developed at the JGI have made it possible for scientists to identify viruses in samples from natural ecosystems via their genomes.
"Having the tools and technologies and expertise to explore the diversity of life and then how that diversity influences environments and other organisms is very powerful," Mouncey said.
So far, the JGI's scientists have identified 125,000 partial and complete viral genomes. In addition, their database has more than 760,000 genomes and genome fragments. In particular, researchers at the JGI figured out how a specific group of "giant viruses" evolved. These viruses have far larger genomes than their normal counterparts. Researchers working at the JGI found that giant viruses actually picked up DNA from host cells, expanding scientists' understanding of the relationship between viruses and cells.
When Mouncey was reading science magazines in his childhood home, he likely never envisioned running a multi-million dollar scientific facility serving thousands of researchers a year. His youthful enthusiasm is still very evident. As he confided, "I've got a really awesome gig and I'm learning cool new science every day."
In Fiscal Year 2021, our 28 user facilities welcomed more than 33,000 researchers from academia, industry, and government research enterprises from all 50 states and the District of Columbia to perform scientific research. For details on the individual Office of Science User Facilities, please go to https://science.osti.gov/User-Facilities/User-Facilities-at-a-Glance.
Please go to Profiles of User Facilities Directors to read more articles on the directors for the Office of Science user facilities.
The Office of Science is the single largest supporter of basic research in the physical sciences in the United States and is working to address some of the most pressing challenges of our time. For more information, please visit the Office of Science website.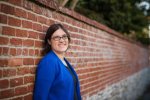 Shannon Brescher Shea
Shannon Brescher Shea (shannon.shea@science.doe.gov) is the social media manager and senior writer/editor in the Office of Science's Office of Communication and Public Affairs.
more by this author