You are here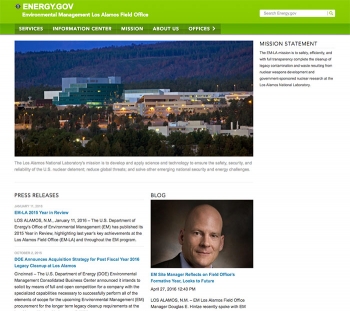 A screenshot of the new EM Los Alamos Field Office website.
LOS ALAMOS, N.M. – The EM Los Alamos Field Office today introduced a new user-friendly website with a sleek, simple design that delivers timely information about the legacy cleanup activities underway at the Los Alamos National Laboratory.
   Previously, EM's Los Alamos cleanup efforts were featured on the laboratory's website. Now, the EM field office, just over a year old, has launched its own website with the goal of increasing transparency by providing more resources that stakeholders, residents, media, and other members of the public can click to with ease.  
   The website offers an array of information. The field office's services — legacy waste remediation and disposition, soil and groundwater remediation, and demolition, deactivation, and material disposition — are described in comprehensive accounts in separate sections.
   Other pages on the site focus on the office's public participation programs and mission to safely clean up and reduce risks to the public, workers, and the environment associated with legacy material, facilities, and waste sites at the laboratory. Fact sheets, newsletters, press releases, and information on safety, budget and performance, and the laboratory's history can be easily viewed and downloaded.
   Increased capabilities allow access to the website through mobile platforms and multiple Web browsers, enabling users to quickly search relevant content and move through the website's organized sections. 
   "We're excited to have an online platform dedicated to our new field office. The EM Los Alamos Field Office website provides an up-to-date picture of our legacy waste cleanup mission at Los Alamos National Laboratory — the work we've done, what we're focused on now and what we have planned for the future. We're looking forward to sharing our progress with our stakeholders and keeping them informed with regular updates," EM Los Alamos Field Office Manager Doug Hintze said.
   The Los Alamos Field Office joins other EM sites that have transitioned to the Energy.gov platform in recent years, including the Portsmouth/Paducah Project Office and Oak Ridge Office of Environmental Management. And last year, the Northern New Mexico Citizens' Advisory Board revamped its website with a fresh, modern appeal to its design and layout, and a more user-friendly experience for accessing information.
   Transitioning numerous office and field site websites to a single platform is expected to help DOE avoid $10 million in costs annually while improving and integrating the Department's communications infrastructure.
   Visit the new EM Los Alamos Field Office website here.