You are here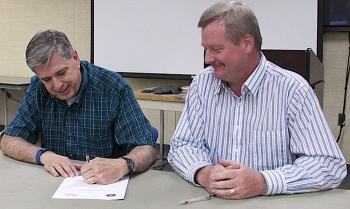 DOE-Idaho Deputy Manager Jack Zimmerman, right, and Fluor Idaho President and Project Manager Fred Hughes.
IDAHO FALLS, Idaho – It's now been a little more than a month since Fluor Idaho, LLC, officially took over as the new contractor for the Idaho Cleanup Project (ICP) at DOE's Idaho Site. EM Update recently spoke with DOE-Idaho (DOE-ID) Deputy Manager Jack Zimmerman and Fluor Idaho President and Project Manager Fred Hughes on the successful transition and plans for the year ahead.
1. The transition to Fluor Idaho, LLC, marks the first time in more than 10 years that management of the cleanup work at DOE's Idaho Site has changed hands. How would each of you assess the transition? Are there lessons that DOE and contractors can learn and apply at other EM sites?
ZIMMERMAN: The transition was probably one of the smoothest transitions I have been a part of. Both sides were well prepared for transition. 
DOE-ID designated personnel having been involved with the Source Evaluation Board for two years prior to work directly on the transition. DOE-ID prepared for and scheduled kickoff meetings for Day 1 of transition involving DOE and all affected organizations. This pre-planning and early execution energized a quick start; DOE-ID also established an Integrated Project Team (IPT) staffed from all functional areas to engage the incoming contractor and incumbents. Each IPT member was the lead of a sub-team for their specific area. 
In addition, DOE-ID constructed a counterparts matrix prior to the Notice to Proceed (NTP) that delineated across functional areas and across DOE-ID, Fluor Idaho, CH2M-WG Idaho, Idaho Treatment Group (ITG) and Battelle Energy Alliance names and contact information. This tended to blow the communication channels wide open from the very beginning, allowing personnel the knowledge of who key interfaces would be during transition from Day 1 of transition. And Fluor Idaho prepared a detailed transition plan expressly for the ICP Core Contract and delivered it to DOE-ID prior to the NTP+10 day deliverable requirement.
HUGHES: I thought the transition went very well. It was clear that DOE was very prepared for the transition. And at the start, DOE went out of their way to introduce the team members from DOE and each of the contractors. In addition, Fluor started preparing for the transition process ahead of time, setting it up as a project and developing a plan that we implemented during transition.  
Our approach going into transition was that the incumbent employees have an outstanding safety and performance record and we wanted to build on that. We went out of our way to communicate our approach and address their questions to try to alleviate their stress during this unsettling time. 
In terms of lessons learned, working closely with each other is key. Make sure you have frequent communication and solve problems early so there are no surprises. Be prepared going in and set an objective to finish a couple weeks early so you can address last-minute issues. It's also important to be nimble throughout transition so you can adapt as necessary and take advantage of opportunities as they arise.  
Our approach to town hall meetings also proved to be a good example. We delayed the meetings by a couple weeks to ensure we had detailed information to provide. In addition, we included spouses so they could hear the information and get their questions answered. It helped calm some of the stress. And we took the meetings on the road, holding them in all the towns where our employees live, rather than making them come to us.
2. What new and innovative approaches is DOE looking to see the Fluor team bring to Idaho?
ZIMMERMAN: DOE is looking for integration of the best and most efficient parts of the two programs managed by the previous contractors (ITG and CH2M-WG Idaho) to be combined into a single program executed by Fluor in a more efficient manner. Another key aspect is how Fluor integrates the workforce from each predecessor contractor to build on performance.
3. Fluor is part of several cleanup contractors across the EM complex. What experience and lessons learned can Fluor bring from other sites to aid the cleanup mission at Idaho? What personal experiences can you bring from your time at the Portsmouth Site to Idaho?
HUGHES: Each member of the management team brings a wealth of management experience from a variety of DOE sites. For example, we brought in expertise from the Savannah River Site to head up the spent fuel program — Mike Swain has decades of experience running similar programs. Peggy Davis has vast experience at Savannah River and at Hanford running business programs. Hoss Brown and Tom Dieter have a great history from Rocky Flats and the Idaho Site as well as a great relationship with the unions. Marc Jewett brings outstanding regulatory experience from three different DOE sites.  
My background provided a unique path that led here. At Portsmouth, I worked with multiple contractors on site and a large represented workforce. I worked on spent fuel at Hanford, ran the Radioactive Waste Management Complex, built the Advanced Mixed Waste Treatment Facility, worked in both DOE and the commercial industry, and most recently, served as the deputy site director at Portsmouth. That trajectory brought me here. Plus, I've worked with almost all of my leadership team at other projects so I knew they would be a great team together and we gelled together almost immediately.  
4. For each of you, what is your top objective for the first full year of Fluor Idaho's contract? What do each of you see as the main challenge of the first year?
ZIMMERMAN: There are at least two top objectives and they fall across different areas of the site. In the area of TRU (transuranic) waste progress, I see improved focus on retrieval and processing of the above-ground TRU waste stored at the Radioactive Waste Management Complex, while responding to changes in the Waste Isolation Pilot Plant Waste Acceptance Criteria and certification process, as critical.  
The other top objective is working through the commissioning approach to the Integrated Waste Treatment Unit (IWTU) to manage the startup issues we have experienced on that project. The technical issues with IWTU will remain the top challenge for the project. Finding a solution to the process stability issues will require a more methodical testing approach to identifying the underlying chemistry and fluidization issues that have been experienced to date.
HUGHES: Clearly, getting IWTU expeditiously into operations is a key objective. But at a broader level, consolidating, accelerating and delivering on the contract. We want to gain efficiencies by successfully combining the two workforces, creating a seamless organization. We want them to feel that they are part of Fluor Idaho and the bigger Fluor. The challenge is combining two different workforces that have different procedures and different cultures.  
We started off the contract focused on combining the workforces. We had small-group meetings the first day to talk about their specific group goals and then brought the full team together at the two site facilities on the second day to learn more about Fluor Idaho, talk about the five goals in five years, participate in safety exhibits, tour the various facilities and have lunch together. We also have a strong partnering relationship with DOE. We participated in a partnering session early in transition and signed a formal partnering agreement noting our approach to work together.  
5. Lastly, the workforces that Fluor Idaho will be managing have exceptional safety records. Both the Advanced Mixed Waste Treatment Project and the Idaho Cleanup Project are VPP Star Sites. How will Fluor Idaho improve on this safety record and what are the Department's expectations for safety going forward?
HUGHES: I hold my management team accountable for the safety of their people, so if there is an incident, they have to be actively involved in investigating what happened and being part of the solution. Fluor Idaho is continuing to strongly support the employee safety teams. We are taking the best of both the safety programs to develop one best-of-the-best program for Fluor Idaho. We are pursuing VPP Start Status so we will continue to maintain that credential. Fluor Government Group has an excellence committee that includes representatives from the projects so we can share lessons learned from our sites. We are linked in closely to Fluor Corporate's safety program including worldwide lessons learned and other safety programs, such as the Fluor Corporate Environmental, Safety Health and Quality Assessment Team.
ZIMMERMAN: I expect the Fluor senior management and leadership team to be engaged in every aspect of safety and recognize that doing work safely is our number one priority. That is the only way to maintain the safety culture that has led to the world-class safety performance we have experienced in Idaho.