You are here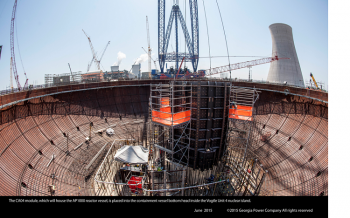 In February 2014, I was honored to travel with Secretary Moniz to the Vogtle Electric Generating Plant in Georgia to announce that the Department would guarantee $6.5 billion in loans to Georgia Power Company (GPC) and Oglethorpe Power Corporation (OPC) for construction of the first new nuclear reactors to be licensed and begin construction in the U.S. in three decades.
I'm honored again by marking the end of my tenure as Executive Director of the Department's Loan Programs Office (LPO) with another major achievement for the program – today's announcement that the Department will guarantee $1.8 billion in loans to three subsidiaries of the Municipal Electric Authority of Georgia (MEAG Power) for the Vogtle project.
The completion of the Vogtle deal is important to LPO for a number of reasons.
The $8.3 billion in total loan guarantees for the Vogtle project represent the program's first advanced nuclear energy deal and its first completed deal since 2011. It also highlights the ability of LPO's experienced professional staff to finance innovative projects while maintaining a commitment to protecting taxpayer interests. The deal took several years in large part due to its uniqueness and complexity as the first new nuclear reactors to be licensed in the U.S. in 30 years, the use of innovative technology that had never been deployed commercially in the U.S., and several different types of borrowers.
Vogtle has also played a role in starting to revive construction of nuclear reactors in the U.S. and around the world. Similar to how DOE financing helped launch utility-scale photovoltaic solar as a commercially mature market in the U.S., one of the nation's first cellulosic ethanol facilities and a new generation of American concentrating solar power plants, six additional reactors currently under construction in the U.S. and China are using the same innovative reactor technology as Vogtle.
In addition, Vogtle is helping to renew a world-class workforce with specialized expertise at building nuclear power projects and trained a new generation of engineers, technicians, electricians, welders, and more. The project is expected to create 4,600 onsite construction jobs and approximately 750 jobs once the units begin operation.
These workers are actively moving the project toward completion, when Units 3 and 4 will help to power the equivalent of 1.5 million average American homes and avoid nearly 10 million metric tons of harmful carbon emissions each year. In early June, a 1.3 million pound steam generator was delivered to the construction site, representing another step forward for the project.
While an important milestone for LPO, Vogtle is just the beginning. Currently, $40 billion of loan authority is available through three Title XVII solicitations – Advanced Fossil Energy Projects, Advanced Nuclear Energy Projects, and Renewable Energy and Efficient Energy Projects – and the Advanced Technology Vehicle Manufacturing (ATVM) Loan Program. Over the next several years, I look forward to watching LPO continue to finance innovative projects that help to advance our nation's all-of-the-above energy strategy.