You are here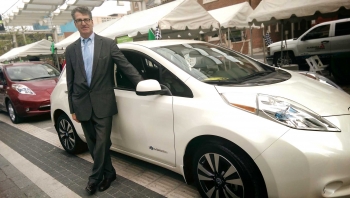 The Indianapolis 500 was not the only major car event in Indiana last week. The Electric Drive Transportation Association's annual conference convened in Indianapolis to celebrate the advances in electric transportation and examine the future of the industry.
At the event, I participated in a panel with Reuben Sarkar, the Department's Deputy Assistant Secretary for Transportation, and Indianapolis Mayor Greg Ballard to discuss the role that public-private partnerships can play in deploying more advanced technology vehicles. Mayor Ballard is demonstrating what can be done at a municipal level with the announcement of the largest all-electric car sharing program in the country and Deputy Assistant Secretary Sarkar shared several successes from the Department's Office of Energy Efficiency and Renewable Energy.
The Energy Department has also demonstrated how successful public-private partnerships can help to boost America's manufacturing of electric vehicles (EVs). Earlier this week, Nissan, which received a $1.45 billion loan from the LPO's Advanced Technology Vehicles Manufacturing (ATVM) Loan Program, announced that it had delivered its 50,000th all-electric LEAF in the United States. The LEAF is the first all-electric model to reach 50,000 sales in the United States.
Nissan is using its loan to help manufacture its EVs for the U.S. market in the United States. The loan has been used the loan to construct one of the largest advanced battery manufacturing plants in the United States, retool its Smyrna, Tennessee manufacturing facility for assembly of the all-electric LEAF, and to construct an efficient and environmentally friendly paint plant. Nissan also used the loan to develop an electric power train manufacturing line for the LEAF vehicle within its engine manufacturing facility in Decherd, Tennessee.
Another important EV milestone this month came from California, where Tesla has become the state's largest auto industry employer. Tesla received a $465 million ATVM loan to retool an existing plant in Fremont to produce its EVs and create thousands of manufacturing jobs. In May 2013, Tesla elected to repay the entire remaining balance on its loan nine years ahead of schedule.
We're excited to see advanced technology vehicle manufacturing taking off, which is creating more demand along the supply chain. That is why Secretary Moniz announced a series of improvements last month to clarify the eligibility for the component suppliers manufacturing fuel-efficient technologies. This includes, but is not limited to, advanced engines and powertrains, light-weighting materials, advanced electronics and fuel-efficient tires. Additionally, we've also committed to improved responsiveness to applicants and a more efficient application process that can be found online at https://apply.loanprograms.energy.gov/.
The milestones reached this month by Nissan and Tesla highlight the growing demand for advanced technology vehicles. With nearly $16 billion in remaining loan authority, we think the ATVM Loan Program can play an important role in meeting that demand and the President's goal of nearly doubling average fuel efficiency for cars and trucks to 54.5 miles per gallon by 2025.