You are here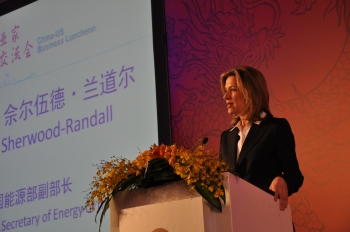 Deputy Secretary Elizabeth Sherwood-Randall speaks at a meeting during a Business Development Mission to the People's Republic of China.
Last month, I was honored to participate in the Obama Administration's first presidentially-designated Business Development Mission to the People's Republic China, led by Commerce Secretary Penny Pritzker and Deputy Secretary of Energy Elizabeth Sherwood-Randall. During the trip, the United States moved our agenda with China forward in elevating our global leadership role in deploying clean energy and addressing the threat of climate change.
One of the most important topics of discussion on the trip was how to finance clean energy projects. On a panel during a symposium in Shanghai, I shared the experiences of the Department's Loan Programs Office (LPO) in issuing more than $30 billion in loans, loan guarantees, and commitments to more than 30 clean energy and advanced technology vehicle manufacturing projects. U.S. Export Import Bank and the U.S. Trade and Development Agency colleagues joined me on the panel at this symposium to explain their work in this space, followed by a panel of representatives from several Chinese banks.
The audience was especially interested in how the U.S. government supports the development of clean energy technology not only at the research and development stages, but also in financing large-scale deployment. The Chinese members of the audience from banks and industry also wanted insight into how our endeavors encouraged greater private sector involvement.
To illustrate how the United States has helped finance large-scale deployment and encouraged private sector involvement, I shared how LPO worked with the utility-scale photovoltaic (PV) solar market. In response to a solicitation issued in support of the Recovery Act, LPO issued loan guarantees to the first 5 PV solar projects larger than 100 MW in the United States. After LPO stopped issuing new loan guarantees to PV solar projects under that particular solicitation in 2011, an additional 17 PV projects larger than 100 MW have been financed to date without loan guarantees. Utility-scale PV solar has become the largest growth sector in solar, which has become the fastest growing source of new energy in America.
In addition to LPO's work in PV solar, some Chinese officials wanted to know more about the U.S. experience on concentrating solar power (CSP). LPO issued $5.84 billion in loan guarantees for five advanced CSP projects in the U.S. Southwest. This financing helped enable construction of the largest CSP plant in the world (Ivanpah in California), the first CSP plant with thermal energy storage in the country (Solana in Arizona) and, when completed, the world's largest CSP power tower with thermal energy storage (Crescent Dunes in Nevada).
These CSP projects are just the beginning of what is expected to be a robust global market for innovative clean energy technologies of the types supported by LPO. Many of the technologies financed by LPO, as well as the important insights learned in constructing, commissioning and operating them can useful to emerging international markets such as China. Through our work in these areas, LPO is helping create a new set of economic opportunities for high-tech U.S. companies. For example, BrightSource, the technology provider for Ivanpah, has signed a joint venture agreement with Shanghai Electric Group to bid on proposals for CSP plants with thermal energy storage in China.
Advanced nuclear energy provides another example of U.S. leadership in innovative technology that is being embraced by China and other countries. LPO issued loan guarantees to the first new nuclear reactors to begin construction in the United States in three decades at the Vogtle Electric Generating Station in Georgia. Vogtle is the first U.S. project to use advanced AP1000 reactor technology that is safer and has a smaller footprint than previous reactor technologies. Four of these new reactors are currently under construction in the United States and four are under construction in China as well, where there is an aggressive plan to use nuclear energy to generate electricity without carbon emissions. While visiting Guangdong Province we learned the province is planning for 17 new nuclear projects there alone.
The early deployments of these innovative technologies financed by LPO are helping the United States to compete in the growing global clean energy economy. But we and our Chinese counterparts recognized that competition and cooperation can and must go hand in hand when it comes to fighting the global threat of climate change.
Achieving technological and commercial advances in clean fossil energy technology will be a major contributor to combating climate change.  In his November 2014 visit to China, President Obama joined with Chinese President Xi Jinpeng to reaffirm our countries' commitments to addressing climate change, and they recognized that the advance of carbon capture, utilization, and sequestration (CCUS) technology for coal-fired power plants could play an important part. Our countries are working together to establish a major new carbon storage project based in China.
To help finance the first commercial-scale deployments of these innovative technologies in the United States, LPO has $40 billion available in open solicitations, including $8 billion for Advanced Fossil Energy projects, up to $4 billion for Renewable Energy and Efficient Energy projects, $12.5 billion for Advanced Nuclear Energy projects, and $16 billion for Advanced Technology Vehicle Manufacturing.
This trade mission brought key public and private sector players together to focus on practical next steps for our two countries to take to cooperate to advance clean energy economies and to address climate change. It also drove home to me why it is so important for the United States to maintain its global competitive edge. China and other countries transitioning to cleaner power represent a huge economic opportunity for American companies.  With its successful record of financing innovation and $40 billion in remaining loan and loan guarantee authority, LPO can play an important role in the global clean energy race.