You are here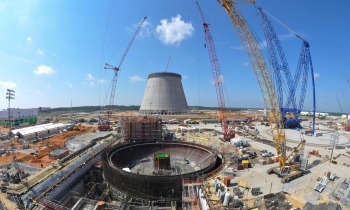 This morning, the Department announced that it is making $12.5 billion in loan guarantees available for Advanced Nuclear Energy Projects. My colleagues in the Loan Programs Office (LPO) and I are following up on this announcement by discussing the role loan guarantees can play in helping to build a strong U.S. nuclear power industry for the future before a gathering of industry professionals at the Nuclear Power International conference.
One area we intend to review is how LPO helped to finance the construction of the first new nuclear reactors in the U.S. in more than 30 years at Georgia's Plant Vogtle. By committing $8.3 billion in loan guarantees for the project, LPO is helping to revitalize the U.S. nuclear industry, which has the potential to play a large role in meeting our future low-carbon energy goals.
We also will discuss the types of advanced nuclear energy technologies that have been identified in the solicitation as key areas of interest. While any technology that meets the eligibility requirements is welcome to apply, these four areas are of particular interest:
Advanced Nuclear Reactors: This area focuses on nuclear energy projects with evolutionary, state-of-the-art design improvements in the areas of fuel technology, thermal efficiency, modularized construction, safety systems, and standardized design.
Small Modular Reactors (SMRs): This area focuses on innovative technologies for nuclear energy projects that are nominally 300 MWe or smaller in size.
Uprates and Upgrades at Existing Facilities: This area focuses on projects that use an innovative technology to improve an existing reactor by increasing efficiency, increasing capacity or making critical improvements that are integral to current or future facility operations.
Front-End Nuclear: This area focuses on advanced nuclear facilities for the "front-end" of the nuclear fuel cycle. Of the $12.5 billion available under this solicitation, $2 billion is available exclusively for "front-end" projects. This could include uranium conversion or enrichment, as well as nuclear fuel fabrication.
Over the past 12 months, LPO has also issued an $8 billion Advanced Fossil Energy Projects Solicitation and a $4 billion Renewable Energy and Efficient Energy Projects Solicitation. Now, LPO can issue new loan guarantees for all of the clean energy technology areas for which it has loan authority under Title XVII.
With the amounts available for loan guarantees for innovative clean energy added to the $16 billion Advanced Technology Vehicle Manufacturing Loan Program, LPO has $40 billion available to advance America's all-of-the-above energy strategy. In leveraging LPO's remaining authority, we hope to replicate the success of our current portfolio of loans, loan guarantees, and commitments to some of the most innovative clean energy and vehicle manufacturing projects operating in the world today. By doing so, we will build a diverse portfolio that supports new industries and moves us closer to a low-carbon energy future.