You are here
The Lakeview, Oregon, Processing Site's groundwater compliance action plan (GCAP) received U.S. Nuclear Regulatory Commission (NRC) concurrence last month. This makes Lakeview the first Uranium Mill Tailings Radiation Control Act (UMTRCA) of 1978, as amended, Title I site where a finalized GCAP has selected a "no remediation" compliance strategy because concentration limits for regulated constituents have been met.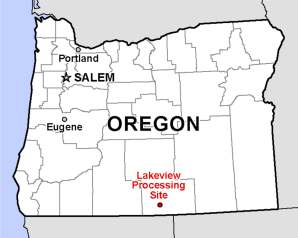 The Lakeview processing site, located in south-central Oregon, was once a privately owned and operated facility that processed uranium ore from the nearby Lucky Lass and White King mines from 1958 through 1960. The 258-acre site, including the areas formerly occupied by raffinate ponds, a tailings pile, and mill buildings, was remediated from 1986 to 1988 pursuant to Title I of UMTRCA.
After surface remediation was completed, DOE needed to address contaminated groundwater to ensure protectiveness of human health and the environment. To do this, a detailed assessment of the site and regional geologic setting and hydrogeology was conducted, and 27 years of groundwater monitoring data was obtained and evaluated.
In 2004, through coordinated efforts with the Oregon Water Resources Commission, the City of Lakeview, and Lake County, the U.S. Department of Energy Office of Legacy Management (LM) established an institutional control (IC) boundary that included groundwater that had potentially been affected by processing site–related activities, and prohibited the completion of domestic-use wells at depths shallower than 250 feet. City water was provided to the IC area for domestic use.
A GCAP presents the groundwater compliance strategy for UMTRCA Title I–regulated sites with contaminated groundwater. In June 2010, LM submitted a GCAP revision for the former Lakeview processing site that identified the site-specific compliance strategy as "no groundwater remediation or further actions required." The framework used to determine the strategy considers the characterization of the shallow aquifer and the presence of former mill tailings pile–related constituents. After almost 3 years in review, the 2010 Lakeview GCAP was concurred upon by NRC staff on May 17, 2013, because it satisfied the requirements of UMTRCA and the groundwater protection standards described in Title 40 Code of Federal Regulations Part 192.
As part of the Lakeview GCAP, LM established a work plan to ensure continued protection of human health and the environment. The plan assesses sulfate and manganese, which still occur at concentrations exceeding acceptable background levels.
The plan addresses continued monitoring at a single, pre-IC installed private well. The well is located within the IC boundary and produces high quality potable water used for domestic purposes. The plan includes defining the scope for future monitoring and acknowledges the potential need for IC boundary modifications based on site-related sulfate and manganese.
"Success on this project was due to good communication and clear expectations," said LM Site Manager, Jalena Dayvault.
The Lakeview GCAP is available on the LM website at http://www.lm.doe.gov/Lakeview/S06182_LKV_GCAP.pdf.