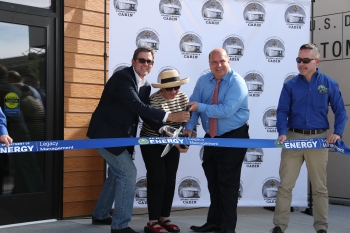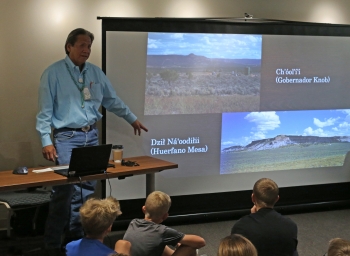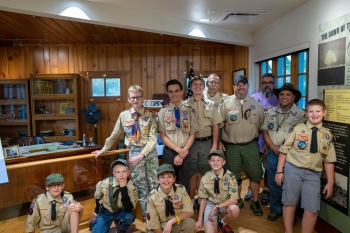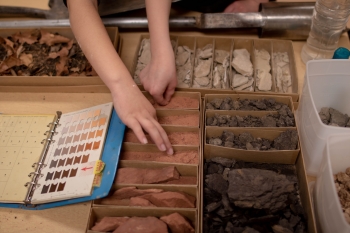 In 1943, U.S. Army Corps of Engineers Second Lieutenant Philip C. Leahy — a civil engineer, by training — received a phone call to meet with Lieutenant Colonel Thomas T. Crenshaw, who was in charge of the Manhattan Project's uranium procurement section. Leahy was told to pack his bags and board a train for a new assignment. It wasn't until he exited the train that he learned of the destination of this new project: Grand Junction, Colorado.
Leahy was charged with procuring as much uranium as possible from the Colorado Plateau. Leahy started by purchasing a 55-acre crescent of land tucked behind Grand Junction's municipal cemeteries. Formerly a gravel pit, the site was quickly converted to a new uranium refinery. The log cabin that had served as the gravel pit office was repurposed as Leahy's office.
The site was the perfect place for a covert operation. It included an existing rail spur that allowed for on-site loading and shipping of materials without inviting public scrutiny. Though just outside of city limits, there was little drive-by traffic. Also, the land was surrounded on three sides by the Gunnison River, offering ample water for refinery efforts and limiting outsider access by land.
By 1946, the Colorado Plateau had produced more than 2.6 million pounds of uranium oxide, which was approximately 14 percent of the total uranium acquired for the Manhattan Project.
At the conclusion of World War II, the Grand Junction site became the focus of the effort to explore and acquire domestic uranium by the U.S. Atomic Energy Commission (AEC).
Following its use for the Manhattan Project and AEC, the log cabin housed an employee credit union, a human resources department, and an employee gym.
In 2001, DOE transferred ownership of the cabin and adjacent property to Riverview Technology Corporation (RTC), a local nonprofit formed by the city of Grand Junction and Mesa County for the purpose of economic development and job retention/creation. After the transfer, RTC began leasing the cabin to DOE. These organizations collaborated to create the Atomic Legacy Cabin.
On July 26, 2016, the Grand Junction site was listed on the National Register of Historic Places in recognition of its historic role in the Manhattan Project and the Cold War. To share this rich and unique history with the public, DOE Office of Legacy Management renovated and transformed the log cabin into the Atomic Legacy Cabin interpretive center. It opened on June 6, 2019.