You are here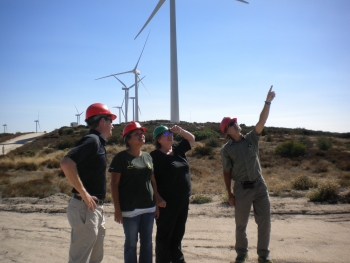 START team members conduct a wind site assessment on the Campo Indian Reservation.
The DOE Office of Indian Energy (DOE-IE) is taking a hands-on approach to advancing next-generation energy development in Indian Country, providing on-site strategic technical assistance for Tribes on renewable energy project deployment.
Through an application process, DOE-IE selected 11 Tribes in Alaska and the contiguous United States to receive tailored technical assistance through the Strategic Technical Assistance Response Team (START) Program. The Office is working with DOE national laboratories and other partners to offer various Tribes unbiased technical expertise on potential energy projects, as well as help with installing renewable energy systems, facilitating strategic partnerships and discussions, and implementing solutions to energy and environmental challenges.
At Tohono O'odham Nation
In August, the DOE Office of Indian Energy technical team attended the Tohono O'odham Nation Tribal Council meeting to discuss the Tribe's renewable energy projects, provide technical assistance, and answer questions regarding projects under consideration on the reservation. The presentations are part of a series of educational courses DOE-IE is developing to provide a framework for tribal renewable energy project development and financing. The meeting gave the more than 25 tribal council members, staff, and tribal members an opportunity to ask questions about renewable energy job creation, technology options, policy actions, funding opportunities, and preferred business structures for Tribes. Phil Hobbs of the Tohono O'odham Planning Department also summarized potential renewewable energy projects for the Tribe during the meeting. In a closed-door session the next day, the council voted to move forward on two projects.
At the Oklahoma Indian Gaming Association Conference
DOE-IE Deputy Director Pilar Thomas and representatives from the National Renewable Energy Laboratory (NREL) attended the Oklahoma Indian Gaming Association conference August 13–15, to demonstrate DOE and NREL resources for Tribes, ranging from project technical assistance to in-depth research and background information. DOE-IE held a break-out panel session on green casino construction and energy efficiency improvements, and spoke with conference participants, including casino operators, tribal leaders, and building design firms, at their booth.
START
As part of their tailored technical assistance packages, several START Tribes participated in community strategic energy planning workshops in September and October, including the Passamaquoddy Tribe of Indian Township in Maine, the Hualapai Tribe in California, and Forest County Potawatomi Community in Wisconsin. An energy planning workshop is planned for the Pascua Yaqui Tribe in Arizona in November. Next steps for the START projects include market context analysis reports and research, data collection, and scenario analysis studies for individual renewable energy projects.
START Alaska
The START Alaska team has also been busy providing customized, on-site technical assistance for the selected projects, including assisting with reinstatement into the State of Alaska's Power Cost Equalization (PCE) program, which helps offset the state's high energy costs and provides more accurate data on energy load to determine and better manage village energy; coordinating community strategic energy planning workshops; delivering a template for a strategic energy plan that can be used for START as well as other energy projects; providing utility management training; and assisting with grant applications. While on-site, the team has also made technical adjustments to ensure existing renewable energy hardware is working properly.
Learn more about START. If you have questions about DOE-IE's technical assistance services, email us at indianenergy@hq.doe.gov.