You are here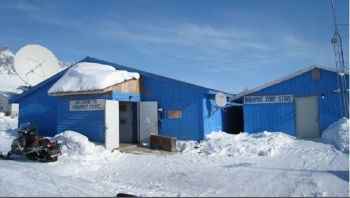 The Yukon River Inter-tribal Watershed Council replaced the village store's existing forced-air furnace with high-efficiency boilers and retrofitted the lighting.
"This project has been a huge success. It has been the overall success of this project that makes us hopeful for other villages in the watershed to adopt the ideas and implementation of this project and continue saving money and using less power." —David Pelunis-Messier, Project Energy Manager
Intro/Background
The Yukon River Inter-tribal Watershed Council (YRITWC) is a coalition of sovereign tribal and First Nations governments founded in 1997 to increase indigenous communities' resiliency in the Yukon River Basin. In 2009, the YRITWC partnered with the Cold Climate Housing Research Center to integrate renewable energy into innovative arctic housing design in the community of Anaktuvuk Pass, Alaska. Home to Alaska's only inland Inupiat population, the Nunamiut, the remote village in the middle of Brooks Range has fewer than 300 residents. Their vision: "Survive and exist with as minimal an impact as possible on the land, the air and the water that sustains our families our food and our traditional way of life."
Challenge
YRITWC formed its Energy Department in 2008 to help communities cope with rapidly increasing energy costs. The impacts were particularly challenging for Anaktuvuk Pass, subject to some of the harshest weather events in the United States. Temperatures routinely dip below -50°F in the winter and above 85°F during the summer months. Winter winds are so fierce that a snow barrier has been erected across the eastern edge of town to help reduce snowdrifts in the village. This area has sustained the Nunamiut people for thousands of years, but over the past decade, increasing energy costs have put a severe strain on structures that were built in the 1970s and 1980s, when energy was cheap and plentiful. The Nunamiut Corporation owns five buildings in Anaktuvuk Pass, all of which were in need of energy efficiency upgrades.
Solution
In an effort to address these challenges, the YRITWC applied for a grant from the U.S. Department of Energy (DOE) Tribal Energy Program in 2010, and was competitively selected to receive $157,000 to make the much-needed energy efficiency upgrades to their buildings, which began in September 2011.
Because of the harsh environment and the fact that building materials for repairs aren't readily available, each of the planned building retrofits presented its own unique challenges. YRITWC targeted four buildings: the manager's residence, the corporation office and hotel, the restaurant, and the village store. In addition to replacing inefficient heating systems in three buildings with higher efficiency furnaces and stoves, the YRITWC replaced 21 electric heaters in two buildings with more efficient heating units. It also replaced the existing forced-air furnace in the village store with high-efficiency boilers. As needed, workers replaced or sealed existing exterior doors and single-paned exterior windows with high-efficiency, high R-value doors and windows, and added insulation to existing attic spaces, and caulked air leakage in all buildings. Inefficient hot water supply systems were replaced with on-demand units. At the village store, workers retrofitted outdated chillers and freezers with higher-efficiency components and economizers. And old fluorescent lighting was taken down and new electronic ballasts installed.
Benefits:
Saved the Nunamiut Corporation nearly $55,000 dollars per year in energy costs
Helped educate local workers from Nunamiut Corporation in basic energy efficiency and the installation of energy efficiency equipment
Created a replicable example for other communities to follow  
For more on this project, see the project summary and final report.
Watch a video about how DOE Tribal Energy Grant Program funding and support have helped pave the way for Alaska Native villages and other tribal communities to pursue energy visions and goals that are in keeping with their cultural values, their goals for self-determination, and their aspirations for future generations.
- Written by Ernie Tucker