You are here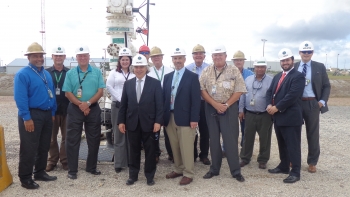 The Secretary was accompanied, during his visit, by (from left to right): Big Hill Site Director John Guidry, Field Operations Manager Darryl Rickner, Supervisory General Engineer Lionel Gele, Supervisory General Engineer Lisa Nicholson, Sr. Site Cavern Engineer Jim Perry, Daniel Evans, Office of Petroleum Reserves Deputy Assistant Secretary Robert Corbin, General Engineer Ron Gallagher, SPR Project Manager William Gibson, Site Operations Manager Tony Deville, General Engineer Suresh Sevak, the Secretary's Deputy Chief of Staff Jonathan Levy, and Special Assistant Mark Appleton.
On October 9, Secretary of Energy Ernest Moniz visited the Office of Fossil Energy's Strategic Petroleum Reserve's (SPR) Big Hill site in Winnie, Texas.  Secretary Moniz participated in meetings with the SPR staff and completed a site tour of the facility during his visit.  The visit is the first Secretarial appearance at an SPR field site in nine years, and it comes after a string of major SPR accomplishments in 2014. 
In May, Secretary Moniz announced an ambitious timeline to create the Nation's first refined petroleum product reserve in the northeast by August 1, 2014.  This reserve, the first to hold gasoline, was completed in time for the peak of hurricane season.  In addition, this new one million barrel gasoline reserve bolsters the Nation's preparedness for sudden and unexpected supply interruptions, such as those experienced when Superstorm Sandy hit the east coast in 2012.
Earlier this year, the SPR also conducted its first test sale of the reserves since 1990.  This test sale offered five million barrels of oil from Big Hill and West Hackberry, the two SPR sites in the SPR TEXOMA distribution system.  The test sale was executed to evaluate distribution capabilities.  Secretary Moniz said the test sale was executed "almost flawlessly."
When Secretary Moniz addressed the SPR employees, some via video conference, he recognized SPR's sustained contribution to the Nation's energy security and its role as the largest emergency crude oil stockpile.
The SPR stores substantial quantities of crude oil in underground salt dome caverns located at four crude oil storage sites along the Gulf Coast of Louisiana and Texas. The SPR's current inventory of crude oil is 691 million barrels, of which the Big Hill site holds 162 million barrels in 14 caverns.