You are here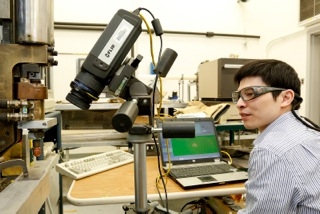 ORNL researcher Jian Chen works with the prototype weld inspection system licensed by Tennessee-based APLAIR Manufacturing Systems.
The average car uses more than 4,000 spot welds to hold its parts together.  While manufacturers currently inspect the quality of welds by prying apart samples, Oak Ridge National Laboratory (ORNL) recently licensed a non-destructive technology that could check all welds in real-time on the production line.  This new technology could make this process faster and more efficient, allowing vehicles to be safer and of a higher quality. Oak Ridge developed this technology through a research project supported by EERE's Vehicle Technologies Office.
APLAIR Manufacturing Systems, a small business in Tennessee, licensed the infrared weld inspecting technology from ORNL to improve and validate the technology. In contrast to the current technique, this process uses infrared technology to check a weld in a few seconds without damaging the material.  It can be used either while the material is being welded or after the welding process is finished. Instead of needing to check only samples, manufacturers could potentially check every critical weld in an actual vehicle before it goes on the road.  In addition, checking materials real-time as they are being welded would allow manufacturers the opportunity to immediately provide the production line with feedback if there is a problem.
While the technique can be used on a wide variety of steel welds, the researchers hope to expand its application to other metals as well.  Using this technique at ORNL could help improve its research into lightweight materials, as aluminum and magnesium alloys require more stringent welding conditions and are more difficult to check with the standard test. 
With this license, APLAIR hopes to produce a commercial product in two years. The company plans to build a prototype system in 2015 and will work with ORNL to test it on an industry-scale assembly line. The company is also working with Eagle Bend Manufacturing, a division of Magna, to manufacture production inspection units. Several major automotive manufacturers have expressed interest in adopting this technology for use in American production lines. 
The Vehicle Technologies Office (VTO) develops and deploys efficient and environmentally friendly highway transportation technologies that will enable America to use less petroleum. These technologies will provide Americans with greater freedom of mobility and energy security, while lowering costs and reducing impacts on the environment.
The Office of Energy Efficiency and Renewable Energy (EERE) success stories highlight the positive impact of its work with businesses, industry partners, universities, research labs, and other entities.