You are here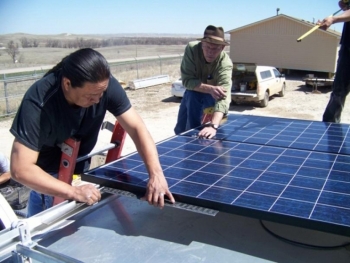 Students and instructors at Oglala Lakota College designed, connected and built a mobile solar energy system over the course of two days. | Photo courtesy of Oglala Lakota College.
Several students at Oglala Lakota College in South Dakota are turning their solar lessons into clean electricity. Through a training course offered by the Department of Energy's SunShot Solar Instructor Training Network (SITN), a group of 20 undergraduates and their teachers installed a solar photovoltaic (PV) system on a mobile construction trailer in May. This accomplishment has the students excited to apply their knowledge to not only the tribal houses they are building this summer, but perhaps even to the larger Pine Ridge Reservation community in the future.
It all started with a spark—an interest in green energy. Lyle Wilson, who is an instructor at the applied sciences college, started researching green technologies such as solar, wind, and geothermal. He heard about the PV training available through SITN and reached out to the Solar Energy International (SEI) team that helps coordinate the Rocky Mountain regional program.
After completing a grid-tied installation in SEI's PV 101: Solar Design and Installation course, the Oglala Lakota students thought demonstrating an off-grid system would be a good next step for developing more renewable energy awareness among members of the Oglala Sioux Tribe. SEI's PV 203: Solar Electric Design (Battery-Based) class allowed them to install two 250 watt solar panels plus all the balance of system equipment on their construction trailer, which now provides enough power for their electric tools.
"Most kids don't want to sit in class—they want to get out and do things," said Lyle. "We did a short one-day lesson in the classroom then went down to the yard and designed, connected, and built the system over two days. Our students were actually sort of stunned to learn how easy it is to do something like this once they understand the fundamental concepts."
This project is poised to grow into something bigger than simply a cleaner, more convenient resource for the school. The off-grid system has been used for community service projects such as remodeling the building where elders are served meals. Lyle is also developing plans to use the mobile trailer as a solar education resource for the tribal schools in his district. These opportunities allow the impact of the PV training to spread throughout the wider community.
"The thing that has really piqued our interest is that you can create your own power grid," said Lyle. "We could install 40 panels as a test to see how much money we could save by getting power from the sun. Then we could pass that information on to the tribe."
Support for the Oglala Lakota project was provided by SEI, Salt Lake Community College, and the Utah Solar Energy Association. This collaborative partnership works to offer similar, high-quality, local training courses throughout the Rocky Mountain region in its role as the Regional Training Provider for SITN.
The SITN program was created to improve the quality and accessibility of solar installation training and expand the nation's trained solar workforce. DOE funds a National Administrator and nine Regional Training Providers to train instructors, develop curricula, and standardize local training efforts. For more information, visit the SITN page and the DOE blog.
The Office of Energy Efficiency and Renewable Energy (EERE) success stories highlight the positive impact of its work with businesses, industry partners, universities, research labs, and other entities.