You are here
By Phyllis King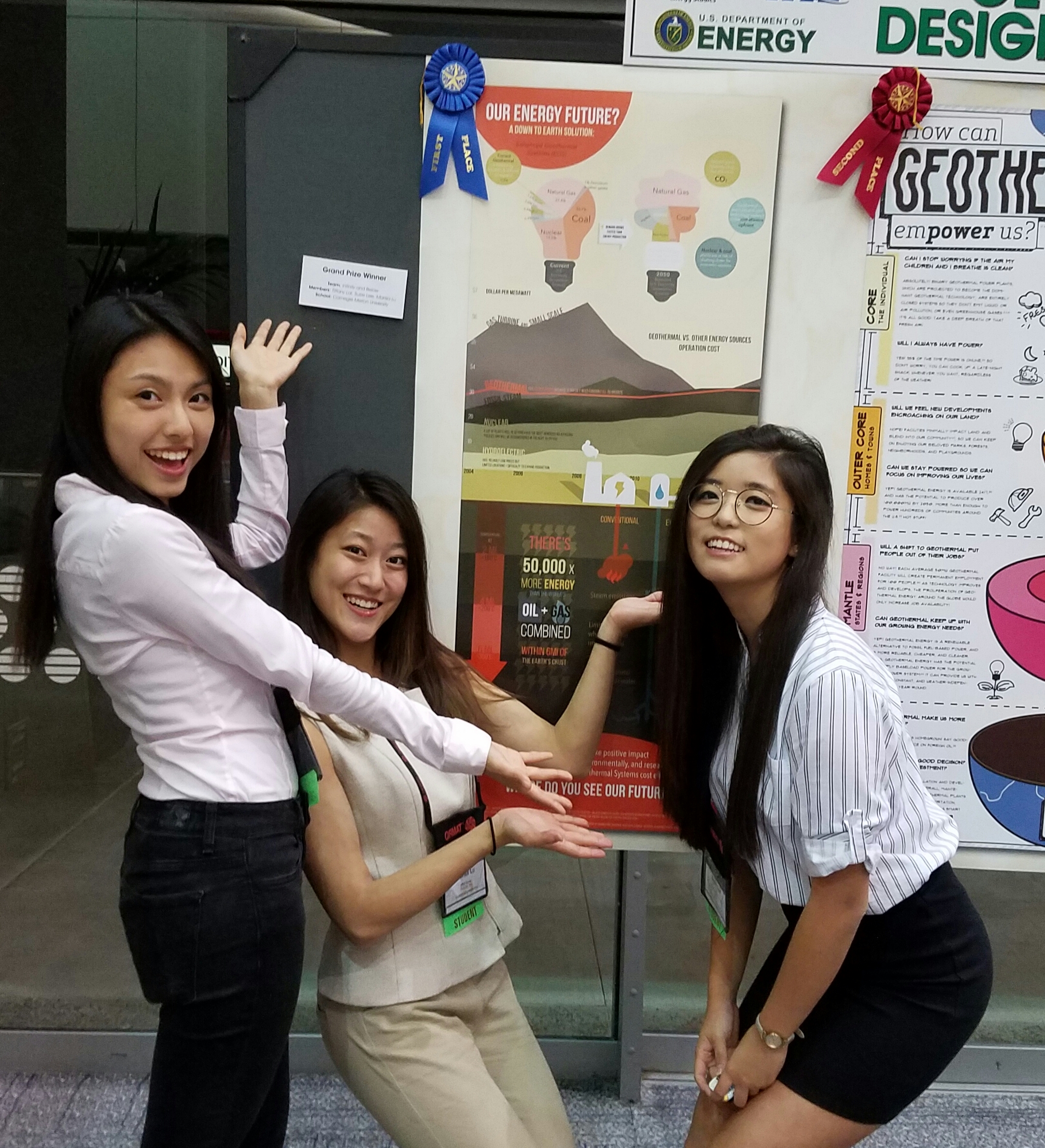 Tiffany Lai, Marisa Lu and Susie Lee won a trip to the Geothermal Resource Council's Annual Meeting in Sacramento, California, with their grand-prize-winning infographic, "Down to Earth Potential
.
"  Idaho National Laboratory and the Department of Energy's Geothermal Technologies Office sponsored the contest, which solicited infographics answering the questions, "What is the future of geothermal and how will it impact you?" 
Lai, Lu and Lee are enthusiastic sophomores at Carnegie Mellon University's School of Design. They are passionately pursuing majors in design with an environmental design or communications design emphasis. 
The Geothermal Design Challenge began in December 2015 and concluded in August 2016. During that period, contestants pulled a team together, designed a draft infographic, performed research to collect facts for the infographic, worked with technical and design mentors to finalize the concept, and created a social media plan to publicize the infographic. 
Upon entering the competition, these design majors were aware of renewable energy sources like wind and solar but geothermal energy was a new concept for them. As design students, with a broad base of design experience under their belts but little technical background in the physical sciences, the team found the research and translation of unfamiliar, complex technical concepts into visual elements the most rewarding component of the Challenge. As a result of the competition, they not only have an increased awareness about geothermal systems and the role this renewable energy source plays in the future of clean energy choices, they have also honed their skills as science communicators and researchers. They are welcome additions to the broadening geothermal stakeholder community, and have emerged as highly sought-after interdisciplinary design students. 
When asked what advice they would give future contest participants, the three team members exclaimed in unison, "Start early!" They suggest planning lots of time to perform the research and to cross-check facts. Though splitting up sections was important to leverage skills and meet deadlines, they stressed the importance of using compatible software if tasks are separated among team members. Overall, communication, planning, and understanding how to work within a team were significant lessons learned that will surely benefit them as they develop professionally. 
As a result of the Challenge, the team members learned how to proactively seek career opportunities and network at conferences. Infinity and Below learned of the contest through "Design Sandwich," a Carnegie Mellon student email group providing information about events, contests, scholarships and jobs. They received no prompt from curriculum or faculty to get involved, but turned that unique opportunity into a way to build their resumes and portfolios, expand their skillset, and interact with scientists.
These interactions — both over the course of the competition, during the mentoring phase and during the Geothermal Resources Annual Meeting in Sacramento — exposed the team to new and creative ways of thinking about science and the impact that their work can have on the geothermal community and beyond.
Elisabet Metcalfe, technology manager for DOE's Geothermal Technologies Office, praised the team on the winning submission. She was "incredibly impressed with the team's appetite for new experiences," she said, and greatly values what their infographic, as well as the other participants' infographics, can do for engaging new and existing geothermal stakeholders.  
"Competitions like 2016's Geothermal Design Challenge get our message out there at an exciting time for geothermal and renewable energy," Metcalfe said. "We are all looking forward to what the future has in store, and these exceptional students are helping us see it more clearly."
To view the winning infographics, please visit GTO's blog here*.
*The views and opinions expressed in the infographics developed by the external student teams do not necessarily state or reflect those of the United States government or any agency thereof.