To bolster the clean energy economy, the U.S. Department of Energy's Office of Energy Efficiency and Renewable Energy (EERE) uses a variety of funding mechanisms—including prizes and competitions—to invest in American entrepreneurs and innovation. 
These prizes and competitions support innovators in every community—whether they're working in their garage, an office, a classroom, or a laboratory—and help advance the clean energy transition. As our nation works to meet U.S. climate goals, EERE is committed to investing in people with a variety of life experiences and skillsets. Our energy portfolio is diversifying, and diversity of thought is critical to ensuring we view problems from every angle to find solutions with the greatest impact and potential. 
Support for Clean Energy Innovators
Innovators need more than funding to support their ideas. As competitors strive to win cash prizes, they also have access to tools and resources, including technical assistance. For example, the American-Made Network—a group of more than 400 private-sector support organizations and DOE's 17 national laboratories—are available to participants in the American-Made Challenges, providing training, teaming, mentoring, and more.
Our nation needs passionate, creative, and diverse Clean Energy Champions to develop renewable energy and energy-saving technologies that will help decarbonize the U.S. economy. Have an innovative idea that will help build our clean energy future? Find a prize competition, challenge, or other funding mechanism that is right for you:
 
American-Made Challenges
The American-Made program incentivizes innovation through prizes, training, teaming, and mentoring.
The American-Made Network
This community of creative entrepreneurs and thought-leading experts builds and accelerates world-changing clean energy ideas and technologies.
Funding Opportunities
Explore current funding opportunity announcements, requests for information, and notices of intent from EERE.
Read Our Four-Part Series About Prizes
Part 1: Why DOE Started Using Cash Prizes to Incentivize Innovation
The U.S. Department of Energy had to invent new options for funding start-ups because the effects of climate change were outpacing technology commercialization.
Learn more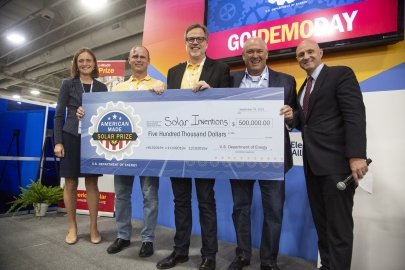 Part 2: How Progressive Cash Prizes Fueled a Cleantech Startup Revolution
Prize competitions at the U.S. Department of Energy are designed to make it easier and quicker for American innovators to develop clean energy technologies, launch businesses, and increase U.S. manufacturing.
Learn more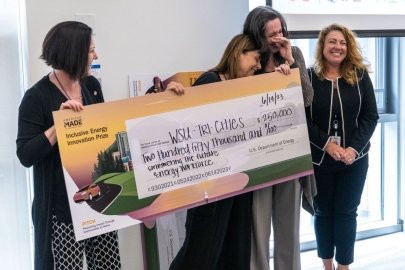 Part 3: How Much Can One Government Idea Alter the Course of Clean Energy?
The U.S. Department of Energy launched the first American-Made Challenge in 2018 to attract more diverse American innovators and accelerate commercialization of clean energy technologies.
Learn more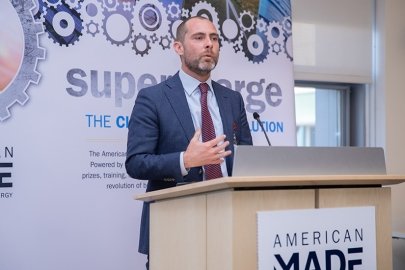 Part 4: The Federal Funding Option That Launched Hundreds of Cleantech Startups (and Counting)
The U.S. Department of Energy leveraged American-Made Challenge Prize competitions to get capital to clean energy organizations that were previously unable to access traditional federal funding resources.
Learn more
Follow our Funding Listserv
Sign-up to receive the latest information about EERE's clean energy funding, prize, and competition opportunities.