University of Alaska Fairbanks 2016
You are here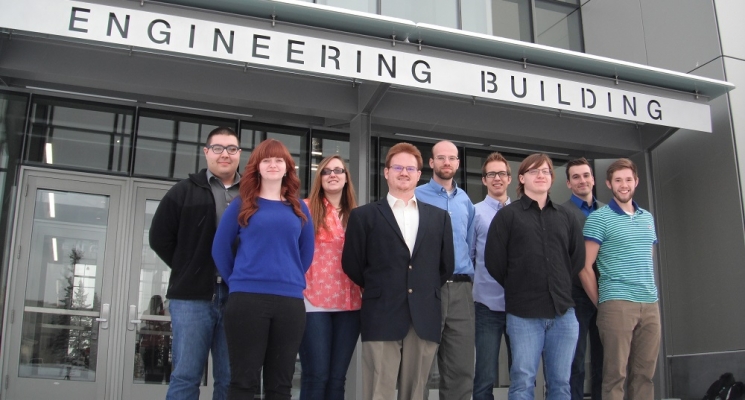 Team roster: Clay Allen, Mechanical Engineering; Elisha Dalbec, Mechanical Engineering; Jessica Garvin, Mechanical Engineering; Matthew Pacheco, Mechanical Engineering; Adam Becia, Mechanical Engineering; Daniel Poesy, Mechanical Engineering; Taylor Roth, Mechanical Engineering; Alex Mitchell, Mechanical Engineering; Isaac Lammers, Mechanical Engineering; Dalton Newbrough, Mechanical Engineering
Members of Arctic Winds analyzing current blade technology. From left to right: Matthew Pacheco, Alex Mitchell, Dalton Newbrough.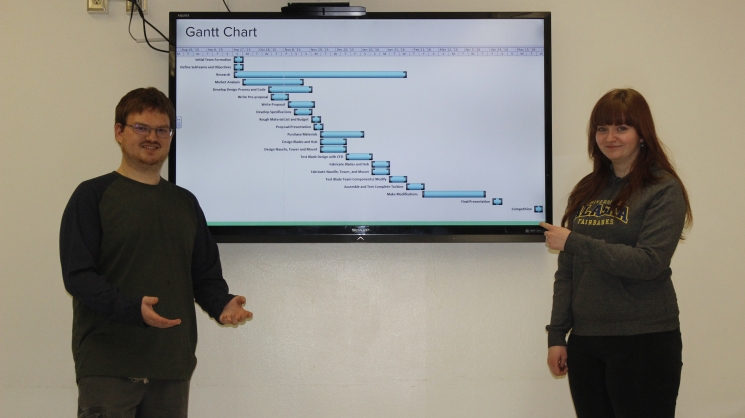 Members of Arctic Winds Aerodynamics and Structure sub team, Matthew Pacheo and Jessica Garvin, present their project schedule. Planning is key for large projects to insure that all of the sub teams can work together to meet deadlines.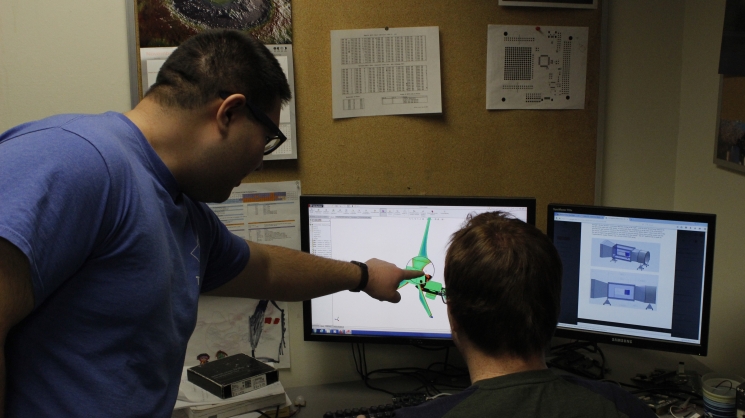 Members of Arctic Winds, Clay Allen and Matthew Pacheco, analyzing the past UAF turbine design.
TEAM NAME:
Arctic Winds
WHY WIND?
University of Alaska Fairbanks has previously been involved in the U.S. Department of Energy Collegiate Wind Competition and seeks to continue its legacy. While designing the turbine acts as the university's senior design project, many of the new team members chose to participate because they saw the competition as an opportunity to learn about the wind industry. In addition, designing the turbine acts as the students' senior capstone design project. Researching and developing a small wind turbine is a demonstration of the skills and knowledge students have learned during their college careers.
PROJECT DESCRIPTION:
Arctic Winds is developing a small, reliable wind turbine for emergency or backup power situations.
Artic Winds is small, capable team whose members come from many different backgrounds. The majority of its team members are mechanical engineers by training, many have competed in other competitions (such as NASA's Robotic Mining Competition and FIRST Tech Challenge), and many have worked in the oil industry. With a comprehensive technical background, the team felt its efforts should be targeted toward the technical side of the competition.
GAME PLAN:
To organize its efforts most effectively, the team created three subteams for production of the wind turbine: aerodynamics, gearbox and brake, and control and power systems. This allows the team to break up the work and establish a division of labor. It also allows students to focus and become specialized on different components of the turbine.
TEAM STRENGTH:
Turbine testing is where Arctic Winds feels it will perform the strongest. By designing a simple, robust, and reliable turbine, they can outperform other teams. In past competitions, many team turbines did not perform optimally due to overly complex designs and lack of testing. Artic Winds' objective is to complete the turbine and leave an abundant amount of time for testing and modification to construct a reliable system.
The team also feels at home with the technical design. The largest challenge of designing a turbine for testing at the competition is developing a braking mechanism that can safely slow the turbine during a loss-of-load situation. In addition, the brake must release when the load connection is established. To aid its design, Arctic Winds has researched some old techniques for braking, mixed with new developments in controls and materials.
TEAM HURDLES:
Each of the contests within the competition brings forth unique challenges. The business plan represents foreign territory for the Arctic Winds team—and its largest obstacle. The majority of the team's training is technical. As engineers, they tend to think primarily in terms of calculations and units, not dollar amounts and potential markets. To be competitive, Arctic Winds has had to reach out to other disciplines for information and guidance regarding how to develop a strong business plan.
The challenge of developing a deployment strategy has also become apparent for the team's closest market, rural Alaska. Deploying a small turbine to rural communities has challenges that might not be faced in urban or metropolitan areas. These include logistic constraints, environmental regulations, and lack of infrastructure.
The bonus challenge presents difficulties in the form of the unknown. It has no specifications and thus leaves it as the largest avenue for "out-of-the-box" thinking. Without any specifications, the team must develop creative ways of using the power it produces—and Arctic Winds has some ideas that will steal the show.
TEAM TAKEAWAY:
The major takeaway for the members of Arctic Winds is to learn how to work on a large project with different subteams. This is the first project for many members in which they have to develop parallel systems simultaneously to produce a final product. Aerodynamics must provide information to the gearbox, and then the gearbox must also provide information to those designing the blades. This is true for all systems within the turbine.
Also, the experience working with wind energy will help many members when seeking for employment after graduation.