You are here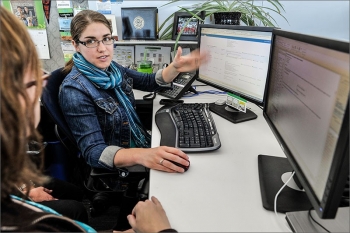 Photo courtesy of Dennis Schroeder | National Renewable Energy Laboratory.
Civil/Environmental Engineer
Alternate Title(s)
Architectural, Structural, or Environmental Engineer; Architect
Education & Training Level Description
Master's degree in Civil, Environmental, Structural, or Architectural Engineering or be licensed as a professional engineer.
Experience
3–10 years
Job Skills

Knowledge of mathematical, physical, and engineering sciences
Experience with the practices, procedures and technical aspects of building design, preliminary engineering, and construction activities
Skill in use of computer-aided design (CAD) and drafting equipment for preparation of construction drawings and/or blueprints
Knowledge of applicable federal, state, and local rules, regulations and policies governing building design and construction
Ability to organize, analyze, interpret, and evaluate scientific data in the solution of engineering problems.

Job Profile

A key goal challenge for the bioenergy industry is to establish the necessary infrastructure needed to industrialize bioenergy systems. From integrated biorefineries capable of converting a broad range of biomass feedstocks into affordable biofuels, bioproducts, and biopower to upgrading current wastewater treatment infrastructure to state-of-the-art waste-to-energy facilities, civil engineers help turn ideas into reality.

Civil engineers apply their knowledge of mathematics and physical sciences to develop ways to design, construct, and maintain bioenergy-related infrastructure, while minimizing impact on the natural environment. They also play a pivotal role in assuring project operations conform to all state and federal regulations as well as maintain environmental compliance.

At the middle levels, civil and environmental engineers work as staff specialists to plan and design bioenergy systems and structures, following construction and government standards, using design software and drawing tools. A master's degree in a professional engineering discipline is recommended. Significant experience in the field and professional licensure may substitute for additional education.